Chinese rock star Dou Wei stormed into the office of the Beijing News newspaper's editorial department Wednesday afternoon, berating a journalist surnamed Zhuo, reports the top Chinese Internet portal sina.com.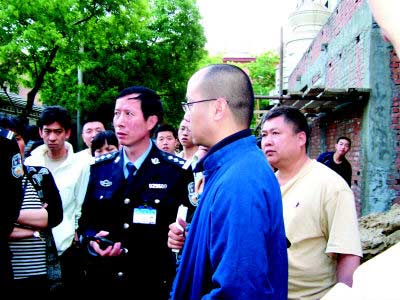 Rock singer Dou Wei (front) is taken away by police officers after setting fire to a car parking outside the office building of the Beijing News, May 10, 2006. [Sina.com]
Dou demolished several computers and a television set, and poured water on editors in the office. Then the angry singer set fire to a car parking in front of the newspaper's office building, according to the report.

Dou accused Beijing News reporter Zhuo of producing faked news about the life and economic situation of his second wife Gao Yuan and him.

"Dou's angry outburst is a serious warning to nosy media," said an unidentified friend of Dou Wei.

The Beijing News later expressed regret over the incident in an announcement, saying that the case has been handed over to the police for further investigation.

"We have always been following the principles of seriouness, objectivity, and responsibility in our news report," said the announcement.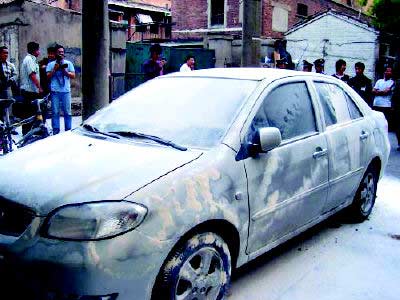 The car ignited by Dou Wei parks outsidethe office building of the Beijing News, May 10, 2006. [Sina.com]
The newspaper went on to say that they had showed great goodwill and respect to the Chinese rock music industry and Dou Wei himself in their former reports.
Dou Wei recently caught much media attention as he blasted other co-stars during a public performance. Moreover, Dou was frequently mentioned by the media as his ex-wife, retiring Hong Kong pop diva Faye Wong is expecting a second baby soon with mainland soap opera star Li Yapeng. Dou and Wong have a daughter Dou Jingtong, who is reported to be biten by a dog recently.
In the Chinese mainland, Dou Wei is almost as famous as his divorcing wife Faye Wong. As a founding member of the band Black Panther, Dou was widely recognized as one of the pioneers who have huge influence on Chinese new music.