GUANGZHOU: The first national free hotline offering advice to gay people on a range of subjects has been launched.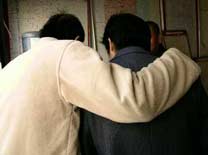 Shanghai and Guangzhou launched a homosexual hotline (800-988-1929) providing services including psychological, legal and HIV consultation, the Information Times reported.
Volunteers in Guangzhou and Shanghai have joined forces for the initiative, which will provide advice on psychological problems, legal issues and HIV/AIDS.
Hong Kong-based Chi Heng Foundation, which is sponsoring the service, has previously operated a localized hotline in Shanghai, to provide psychological and legal help, and another hotline in Guangzhou to support people with HIV/AIDS.
The new nationwide hotline, 800-988-1929, is manned for several hours every day by volunteers in the two cities. It was launched on Monday.
The hotline has been set up because the previous localized services were overloaded with calls from people all over the mainland and even overseas, who were charged long-distance rates.
"On the mainland, being homosexual is still very hard," Hu Zhijun, a worker at the foundation, told China Daily yesterday.
"Under pressure from families and society, most homosexual people dare not reveal their sexual orientation and have to get married to someone of the opposite sex."
Many gay people need not only emotional support, but also advice on their specific rights, Hu added.
The hotline has 13 volunteers, who are all gay, working as consultants.
Three consultants in Shanghai started on Monday, followed by the remaining 10 in Guangzhou yesterday.
They all have full-time jobs, and work for the hotline in their spare time for no payment.
Most of the volunteers have bachelor or master's degrees in medicine, psychology, law or sociology. They have all been given specific training for their roles.
"I expect more qualified people to join our hotline as consultants when it becomes more well-known," said director Xiao Dong.
"Most of the calls we have had so far are from people who complain of social stigma and ignorance, or from those who don't understand homosexual," Hu said.
The hotline is manned from 7-9 pm during the week, and then from 4-9 pm on Saturday and 3-6 pm on Sunday.
An answering phone is left on at all other times.
The number of homosexual people on the mainland is about 48 million, according to a recent survey by Li Yinhe, a pioneering sociologist on sexual issues.
Li proposed to the National Committee of the Chinese People's Political Consultative Conference earlier this year that homosexual marriage be legalized. Although the proposal was turned down, it attracted attention across the country.
"There are not enough services for gay people in Chinese mainland, especially after the only gay consultation hotline in Shanghai closed last year. That is why we launched this hotline," said Rager Shen, an officer of Chi Heng Foundation, who is in charge of the Shanghai branch.
Shen said volunteers were carefully selected.
"The priority for a volunteer is that they should be gay, no matter whether male or female," said Shen.
"They can better understand the callers' feelings; callers also prefer to speak to people who have a similar sexual background."
Organizers said strict measures would be taken to protect the privacy and identity of callers.