Suspect kindergarten arsonist captured
(AP)
Updated: 2006-05-09 17:27
A man accused of setting fire to a Chinese kindergarten, killing three children and wounding others, was captured Tuesday after a daylong manhunt, police announced.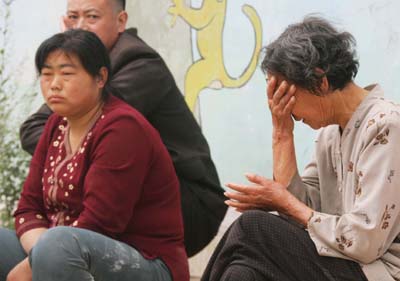 Three local residents grieve their children's death in Shiguan village, central China's Henan province May 8, 2006. Bai Ningyang, a 19-year-old native set fire to a classroom of a local kindergarten on Monday, killing 3 students and wounding another 13 students and a teacher. [Newsphoto]


Bai Ningyang was caught late Tuesday afternoon, Qu Xiaosheng, a police spokesman in Gongyi, a city in the central province of Henan, told The Associated Press. Qu wouldn't give any other details.

Bai, 19, is accused of igniting two cans of gasoline on Monday morning in a kindergarten in Gongyi. Local authorities said 13 people were wounded in addition to the three children killed.

The government hasn't announced a possible motive or said whether Bai has any connection to the school.

Also Tuesday, schools in Zhengzhou, the capital city of Henan province, held fire safety drills prompted by the attack, the official Xinhua News Agency said.

China has suffered a string of unrelated attacks on children at schools throughout the country by assailants using knives, homemade guns and other weapons.

Most of the attacks were blamed on personal grudges or people with psychiatric problems.

Local authorities were ordered in March to post police guards at many schools to improve security.

In the most recent major incident, a man wounded 16 children and two adults at a school in central China when he opened fire on a schoolyard with six homemade guns.