Internet cafe blasts criminal case
(Xinhua)
Updated: 2006-05-07 08:36
Investigation has ascertained the fatal Internet cafe blasts that occurred Friday night in this capital city of east China's Anhui Province as a criminal case, with the two killed identified, local police said Saturday.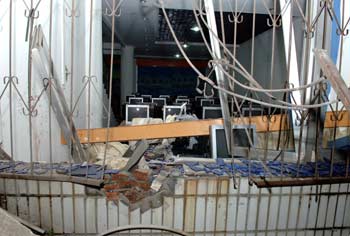 Debris is seen at the site of an internet cafe explosion which left two people dead in Hefei, central China's Anhui province May 5, 2006. Police were investigating the cause of explosions at two Internet cafes in the city which left at least two people dead and four injured. [Xinhua]
According to a press conference held Saturday by the city's public security bureau, the explosions took place at 9:36 p.m. and 9:54 p.m. Friday inside Haoyu and Juxing Internet cafes on the Meiling Avenue in Hefei, killing two people and injured four others.
The bureau said the dead were two young men aged 25 and 23 respectively. The former was a local worker, and the latter was from Bengbu City, Anhui, and worked for Juxing Internet cafe.
The case is being further investigated.