China's fleet to double in five years
By Fu Jing (China Daily)
Updated: 2006-05-06 06:13
To meet the growing demand of air travel and cargo transportation, airlines in China plan to channel a huge amount of funds to double the handling capacity of their fleet within in the next five years.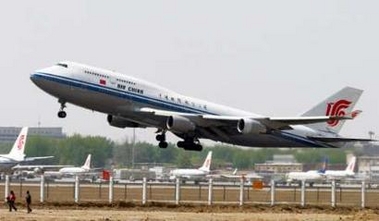 An Air China Boeing 747 aircraft takes off from Beijing's international airport April 20, 2006. [newsphoto]
Gao Hongfeng, vice-minister of the Civil Aviation Administration of China (CAAC), said that mainland Chinese airlines would increase their combined fleets to 1,580 airplanes from the current 863 airliners by 2010.
And by 2025, the fleets can be expanded to 4,000 aircraft, a big jump from around 500 in 2000 in the mainland. "The expectation is based on the robust growth of the domestic travel market," said Gao.
He predicted that the mainland's domestic air travel market will grow by 14 per cent annually until 2010, and from 2011-20, the annual growth rate will be around 11 per cent.
Twenty-seven airlines on the Chinese mainland last year handled 138 million passengers, up 15.5 per cent from the previous year. There has also been an increase of 3.06 million tons of cargo, up 13.8 per cent of the same year.
Airplane giants Boeing and Airbus are also upbeat about China's purchasing ability in aircrafts in the coming years. Boeing predicts China will need 2,600 new airplanes over the next two decades, which will be worth approximately US$213 billion.
And by 2024, China's fleets will have 3,200 airplanes in service, according to Boeing, whose estimate is lower than CAAC's 4,000 by 2025.