Wen urges pursuit of democracy
(Xinhua)
Updated: 2006-05-05 08:13
Chinese Premier Wen Jiabao said Thursday that democracy and science are important for China to transform itself into a modernized country and the two things must be pursued.
Wen paid a visit Thursday to Beijing Normal University, one of the most prestigious universities in China, celebrating the Chinese Youth Day with the students and young teachers.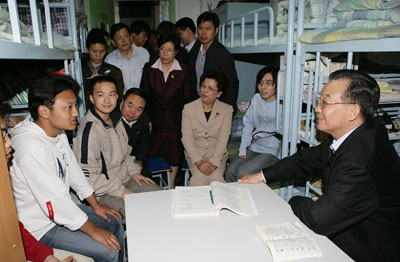 Premier Wen Jiabao (R) talks with a student in the dorm of Beijing Normal University, in Beijing, capital of China, May 4, 2006. Wen Jiabao visited the university Thursday, celebrating the Youth Day (May 4) with students. [Xinhua]


The Premier said that China should creat a democratic atmosphere that can ensure people's rights to vote, to make decision, to participating in management and to exercise supervision.

"We must enable everybody to fully grow up in an environment of equity, justice and freedom," according to Wen, adding that the country will also provide a platform for people to criticize and supervise the government.

In addition, the country should encourage scientific innovation, and education is the base of fulfilling those goals, he said.

The Chinese Youth Day originates from the "May 4 Movement" in 1919, which spearheaded a campaign to spread democracy and science by college students across the country.

Since then, democracy and science have become two major symbols of China's moderization that always remembered by Chinese intellectuals. After the founding of the People's Republic of China in 1949, the country further interpreted the two concepts in a socialist manner.

Wen told the students and teachers that democracy and science must be pursued by young people, and if the goals are not achieved,there would be no socialism and modernization.

He also asked the students to balance the learning of liberal arts and science, and asked the young teachers to further understand and learn from students, who are very creative and innovative.

Wen was accompanied by State Councilor Chen Zhili.