Japan, China to hold working-level talks
(Reutes)
Updated: 2006-05-02 09:17
Japan and China will soon hold working-level talks in an attempt to improve troubled relations between the Asian neighbors, a news report said Monday.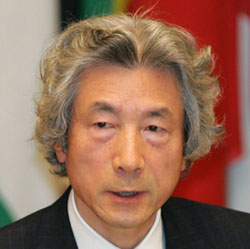 Japanese Prime Minister Junichiro Koizumi delivers his policy speech for African countries at the African Union (AU) headquarters in Addis Ababa May 1, 2006. [Reuters]

Undersecretary for Foreign Affairs Shotaro Yachi will hold three days of talks from Sunday with Chinese Vice Foreign Minister Dai Bingguo in Beijing and Guiyang in southwest China, Kyodo News agency reported, citing Yachi.

Yachi will call on the Chinese to resume contact between the countries' top leaders, which Beijing cut off to protest Japanese Prime Minister Junichiro Koizumi's latest visit to a war shrine with links to Japanese militarism, Kyodo said.

Foreign ministry officials were unavailable to confirm the report late Monday.

Ties between Japan and China have become their most strained in decades due to Koizumi's visits, squabbles over history textbooks and territorial issues.

Earlier reports have said Japanese officials hope to arrange talks between Foreign Minister Taro Aso and his Chinese counterpart Li Zhaoxing during the May 23-24 Asia Cooperation Dialogue, a 26-member forum aimed at promoting economic cooperation in Asia, to be held in Doha, Qatar.

If the meeting does materialize, it will be the first between the two countries' foreign ministers since May, 2005, when they met on the sidelines of the Asia-Europe Meeting in Kyoto, western Japan.