Chinese Premier Wen Jiabao swapped state rooms for a steel factory canteen, and discussions about government affairs for a chat with workers to mark the International Labor Day on Monday.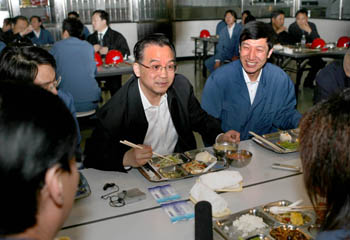 Chinese Premier Wen Jiabao celebrates International Labor Day with workers at Beijing's Capital Iron and Steel Company on May 1, 2006. [Xinhua]
"I'm very happy that I can celebrate the festival and have lunch with you guys," Wen told the workers at Beijing's Capital Iron and Steel Company.
Wen came to the canteen of the company's third factory at noon, and bought a plate of oil seed rape, fried sliced potato and steamed bun.
He asked about the workers' daily lives, housing conditions, income, and leisure activities.
"Skilled workers are essential for the sustainable development of China's enterprises," Wen said when the workers told him they usually spent their spare time studying.
"I hope all of you to master the highest technologies, make first-class products, have first-class achievements, and become first-class steel workers," Wen told them.
The enterprise reform aimed to encourage workers' enthusiasm and originality so as to boost productivity, while raising standards in their material and cultural lives, said Wen.
"The reform is for the workers and depends on the workers," Wen said.
China's enterprise reform focuses on the restructuring of corporate management and ownership of property.
The Capital Iron and Steel Company, or Shougang, which used to cause much pollution in the capital, will move to central China's Hebei Province before the 2008 Olympic Games. All production facilities of the company will move there by 2010.
Wen also visited an exhibition and facilities of the company on Monday morning.
He shook hands with the workers to say goodbye after being photographed with them.