China succeeds in maglev train test
(Xinhua)
Updated: 2006-04-30 22:14
China on Sunday successfully tested a low-to-medium speed magnetic levitation train, the first domestically developed one in the country, in Southwest China's Sichuan Province.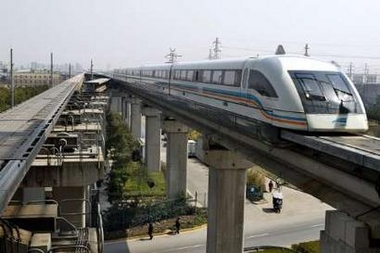 A maglev train drives into a terminal station in Shanghai March 14, 2006. A high-speed rail link between Beijing and Shanghai and a maglev line between Shanghai and neighbouring Hangzhou have been approved by the State Council, China's cabinet. [Reuters]
The test maglev train is 11.2 meters long, 2.6 meters wide and 3.3 meters high. It ran steadily on a 425-meter-long experimental line in the provincial capital of Chengdu.
"The successful test of the train shows that China has mastered the technology of low-to medium-speed maglev trains," said Zhang Kunlun, deputy director of the School of Electrical Engineering of the Southwest Jiaotong University in Chengdu.
The maglev train is developed by a maglev research team of the university, one of China's key engineering universities.
The cost of this maglev train is low, and is suitable for urban traffic, Zhang said.
With a weight of 18 tons, the test train can hold 60 people. It can travel at speeds of up to 160 kilometers per hour, according to Zhang, also a maglev expert with the Ministry of Science and Technology.
China is expected to build a 175-kilometer-long maglev railway this year between Shanghai, the country's largest metropolis, and Hangzhou, a famous tourist destination and capital of East China's Zhejiang Province.