China widens net for fugitive fraudsters
(Agencies/Xinhua)
Updated: 2006-04-29 15:06
In a warning shot to corrupt officials on the run, China's top legislature on Saturday ratified an extradition treaty with Spain which includes an unprecedented pledge not to execute repatriated criminals, Xinhua News Agency said.

The treaty would pave the way for more such judicial cooperation with other Western countries, and help in China's fight to bring back thousands of Chinese officials who had absconded with government funds, the reports said.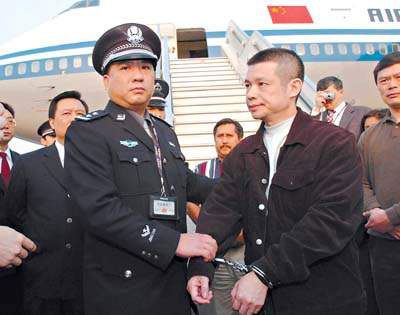 Yu Zhendong, on the run for four years, is arrested after being extradited from the United States April 16, 2004. Yu was a banker of the Bank of China Kaiping Branch and was charged for embezzlement. [Xinhua]


"Spain is an influential country in the EU (European Union), and the treaty will effectively deliver the warning to corrupt officials who are at large on foreign lands," Deputy Foreign Minister Wu Dawei was quoted as telling parliament's Standing Committee in a report this week.

Fueled by surging economic figures, crimes such as bribery, embezzlement have increased among government officials in China, and a large number of crooked officials fled China after reaping huge profits as police have come to be on alert.

According to a 2004 report released by the research institute attached to the Ministry of Commerce, about 4,000 crooked Chinese officials had fled overseas since China launched economic reforms in 1978, taking away funds equal to US$50 billion.

Statistics from the police authorities said there were still 500 economic crime suspects on the run in foreign countries in 2004. The money involved in these cases topped 70 billion yuan. A mere fraction have been repatriated. Official figures show that, from 1993 to January 2005, more than 230 Chinese criminal suspects had been sent back, Xinhua said.

Xinhua quoted legal experts on Saturday as saying the ratification meant China had committed legally to respect the principle observed by major Western countries not to extradite criminal suspects who would face the death penalty at home.

The treaty marked a major shift in tactics in bringing fugitive corrupt officials to justice, Xu Hong, counsellor with the Department of Treaty and Law under the Ministry of Foreign Affairs, told Xinhua in an interview.

"The treaty will help China weave a global extradition net to bring back corrupt officials who have fled abroad, largely seeking asylum in developed countries in Europe and North America," said Xu, who headed the Chinese delegation in the talks with Spain.

President Hu Jintao signed the treaty with Spain in Madrid in November 2005.

One of China's most wanted fugitives, smuggling kingpin Lai Changxing, has been fighting extradition from Canada since fleeing there in 1999. China has pledged Lai would not be executed if he were returned and found guilty.

This year, Yu Zhendong a former Bank of China manager convicted in the United States before being deported on corruption charges at home, was sentenced to 12 years in prison. China had promised he would not be tortured or executed.

The top legislature on Saturday also ratified an extradition treaty with Brazil, two treaties on legal assistance in criminal matters with Spain and France respectively, without the reference to how to handle suspects who might face death penalty.


Since 1993, China has signed extradition treaties with over 20 countries, mostly developing ones including Thailand, Laos, Belarus and South Africa. "Negotiations with developed countries were moving slowly," said Xu.

Observers said China's use of death penalty, especially on severe economic crimes, makes it hard for the country to cooperate on extradition with countries in the EU and North America who uphold the policy that no person who might be subject to the death penalty would be extradited.