Millionaires' Fair in Shanghai proffers luxe
(Shanghai Daily)
Updated: 2006-04-29 08:42
A fair for millionaires - and those who want to dream - extols all the "basics" of luxury: a villa for 250 million yuan (US$31.3 million), a crystal ball for 25 million yuan, private islands, yachts, Porsches, a 30-carat diamond, rare wines.

If it's in your fantasies, it's here.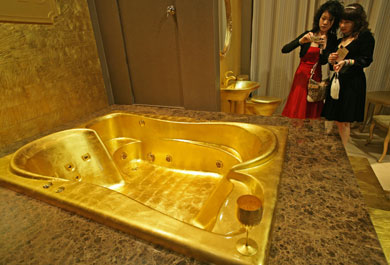 Guests take mobile phone snapshots of a gold bathtub at the ongoing 2006 Millionaires' Fair which opened Friday night at the Shanghai Exhibition Center surrounded by much fanfare about its wealthy guests and extravagant exhibits. The invitation only luxury gala will run through next Sunday. China has an estimated 236,000 US dollar millionaires and is the world's third-largest consumer of high-end fashions after Japan and the United States. [newsphoto]


The 2006 Millionaires' Fair opened last night at the Shanghai Exhibition Center after much fanfare about the wealthy guests and the extravagant exhibits. Admission was by invitation only, but it's open to the public today, running through next Sunday. Admission is 350 yuan (US$44).

As many Chinese become affluent, international luxury goods producers are competing to lure those with old money and new. Orders can be placed at the fair.

The fair is China's first on such a large scale, said organizers. As of last year, China had at least 236,000 millionaires, counted in US dollars and based on their reported wealth, according to research by Cap Gemini and Merrill Lynch.

China is the world's third-largest consumer of high-end fashions after Japan and the United States and generated sales in luxury goods of US$2 billion in 2004, according to a report by Ernst & Young.

The luxury market is likely to grow 20 percent annually until 2008, and then 10 percent a year to 2015, the report said.

Luxury car makers found a launching pad. Porsche Cayenne Turbo 2 made its China debut. It's the top model in the Cayenne series, a mere 1.68 million yuan.

The 2006 Range Rover Super Charger priced at 1.75 million yuan and the Jaguar XK, about 1.4 million yuan, were also launched at the event.

"China is an important market for Porsche given the nation's fast-growing buying power," said Mark Bishop, managing director of Porsche China. Last year Porsche sold 857 cars on China's mainland and expects to sell 500 this year.