Chinese health official on Friday reiterated that China is not covering up human cases of bird flu as suggested by some Western media news reports that cast doubt on China's bird flu data.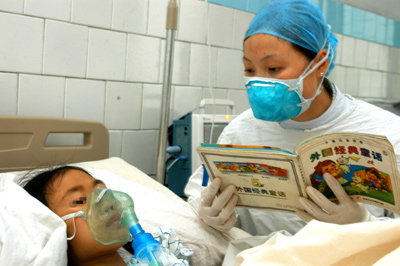 A doctor tells storys to a girl with respirometer in a hospital in Suining, southwest China's Sichuan province, April 28, 2006. The eight-year-old girl, surnamed Sun showed symptoms of fever and pneumonia on April 16. Investigators report that poultry deaths occurred in the patient's house before she caught the deadly disease. China has reported 18 human cases of bird flu, which have resulted in 12 deaths. [Newsphoto]
Each human case of bird flu in China has been made public as soon as it is confirmed and the release of the information has been timely, open and transparent, said Mao Qun'an, spokesman of the Ministry of Health.
He said in an interview with Xinhua that most human cases of bird flu were contracted before outbreaks in poultry or migratory birds were confirmed.
Mao emphasized that China is a vast territory and local medical services vary from region to region in terms of awareness, detection and treatment, making it difficult to track the outbreaks, he added.
The ministry has been urging local authorities to strengthen reporting, testing and screening of cases of pneumonia of unknown causes, and to be very cautious in ruling out bird flu, he told Xinhua.
"Most local medical institutes where humans with bird flu are first treated were slow in reporting to health authorities, therefore we must first raise their awareness. That is a priority," he said.
In a statement released on the ministry's website on Tuesday, the ministry required local institutes to directly report suspicious cases of pneumonia through the nationwide network and inform local health authorities without delay.
The Asian edition of the U.S-based Wall Street Journal on Thursday reported doubted China's bird flu data. The report said some officials might be concealing suspected cases and the death toll in China is higher than the official tally of 12.
"We must clarify that China has not been concealing any confirmed or suspected human case of bird flu since the first case occurred in November of last year," Mao noted.
China has reported 18 human infections of bird flu, including 12 fatalities. The latest case was an eight-year pupil in southwest China's Sichuan Province who is being treated in a local hospital. News of her illness was revealed yesterday, the day it was confirmed by authorities, which was 11 days after she contracted the disease.
The World Health Organization has recorded 205 human cases of bird flu involving 113 deaths by April 27. Experts have warned the virus could mutate into a form that could pass between people and cause a pandemic.