China, the emerging economic powerhouse, raised benchmark bank lending rates for the first time in 18 months on Thursday, prompting sky-high world oil and commodity prices and some major stock markets to take the U-turn.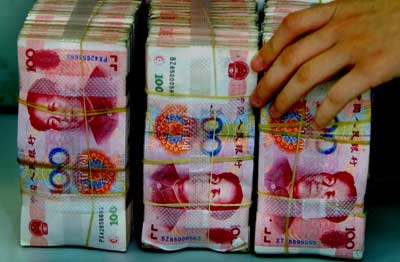 A bank staff arrange yuan notes at a bank in Nanjing, east China's Jiangsu province. China's central bank raised benchmark bank lending rates for the first time in 18 months on Thursday. [Newsphoto/file]
The People's Bank of China raised one-year lending rates to 5.85 percent from 5.58 percent. The rate rise, effective from Friday, is seen as an attempt to slow rapid lending growth and the skyrocketing investment.
The move taken by the People's Bank of China, the central bank, is seen as an attempt by Beijing to prevent the fastest growing economy in the world from overheating. It grew by a spectacular 10.2 per cent in the first three months this year, China's official statistics said.
The National Bureau of Statistics reported last week that China's fixed-asset investment, a closely watched economic indicator, jumped by 27.7 per cent in the first quarter, up from the previous year's 25.7 per cent. Much of the bank lending is pouring into new factories, buildings and other fixed asset projects.
Meanwhile, China's banks released 1.26 trillion yuan in new loans in the first quarter -- more than half the central bank's target for the whole year.
The world financial and raw material market jitters came amid concerns the move may cool China's annual 10-percent-plus economic boom -- a growth driving the fastest world expansion in the past three decades and seemingly endless growth in China's demand for raw materials and investment.
Oil prices, which surged in recent months in part on growing demand from China, fell and shares of mining companies tumbled as traders bet that the growing demand for copper, steel and other commodities fueled by China's rapid expansion could slow.

"The move is significant in the sense that it signals the authorities in China are now acting to reduce rates of economic growth, despite its low level of inflation," Paul Niven, Head of Asset Allocation at F&C Asset Management in London, said in an interview with the Reuters.
The People's Bank of China said the move was meant to keep the economy on an even keel. "The increase in the lending rate is aimed at further strengthening the fruits of macro controls and keeping solid momentum for the economy to grow in a continuous, rapid, coordinated and healthy manner," it said in a statement.
While hiking the lending rates, the bank, for the time being, kept its benchmark one-year deposit rate unchanged at 2.25 per cent, a move seen by some analysts that the Central Bankers do not want to put too much cool water on its economy by dampening domestic consumption, and, its seemingly reviving Shanghai and Shenzhen stock bourses. China's stock market has been bearish for the past five years.
"It's a very timely move as the first-quarter economic figures point to signs of an overheating economy in the making," said Li Yongsen, an economist with Renmin University of China, in an interview with China Daily.

"Compared with requiring banks to lock up more deposit reserves, a rate hike is more effective in reining in lending growth," Li said.