China announced the spread of H5N1 avian flu to an eight-year-old girl on Thursday, its second human case this month coming a day after a top WHO official warned the world not to tire of fighting the virus.
Bird flu's spread has led to the death and culling of 200 million birds since late 2003, with scientists fearing the avian disease could mutate to a form easily passed among people.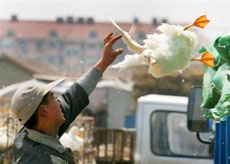 A vender unloads a duck from a truck outside a wholesale market in Nanjing, March 24, 2006. China announced on Thursday that an eight-year-old girl had caught H5N1 bird flu. [Reuters]

Britain and Ivory Coast prepared to start more poultry slaughtering after discovering viral outbreaks, although Britain said the virus it had detected at a chicken farm was probably not the H5N1 strain dangerous to humans.

China's Ministry of Health said an eight-year pupil in southwest China's Sichuan Province was confirmed to be infected with H5N1 bird flu, and was being treated in a local hospital.

The girl, surnamed Sun, from Tangjia Township in Suining City of Sichuan Province, showed symptoms of fever and pneumonia on April 16. She is being treated in a local hospital, according to the ministry.

Investigators report that poultry deaths occurred in the patient's house before she caught the deadly disease.

Samples of the girl's lower respiratory tract tested positive for the H5 avian flu sub-type by the Sichuan provincial center for disease control and prevention (CDC). China's national CDC confirmed the test result to be H5N1 strain of bird flu on Thursday.

The patient has been confirmed to be infected with bird flu in accordance with the standards of the World Health Organization (WHO) and Chinese official standards, said the ministry.

Governments and health departments at all levels in Sichuan Province have taken immediate prevention and control measures after the human bird flu case was confirmed.

People who were in close contact with the patient have been put under medical observation by local health authorities. So far none has shown any abnormal symptoms.

The ministry has reported the new case to the WHO and the regions of Hong Kong, Macao and Taiwan, as well as several countries.

Confirming the news, the World Health Organization said in a statement the girl's diagnosis brought China's laboratory-confirmed cases to 18, 12 of which had been fatal.

"She developed symptoms of fever and pneumonia on April 16. She remains hospitalized," the WHO said.

Just over a week ago on April 18, China's Health Ministry announced the country's 17th confirmed human H5N1 case, that of a migrant worker who died a day later.