China to launch lunar probe next April
(Reuters)
Updated: 2006-04-27 22:19
China plans to take the first step in its ambitious lunar exploration programme next April, launching a satellite that will orbit the moon, a space official said on Thursday.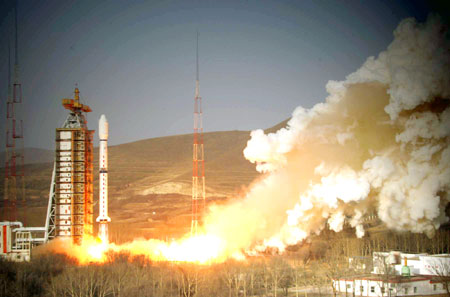 A Long March 4-B carrier rocket lifts off at 6:48 am Thursday, April 27, from Taiyuan Satellite Launch Center in North China's Shanxi Province. [Xinhua]
The craft will be followed a few years later by a remote-controlled lunar rover that will perform experiments and send data back to earth, and, in another few years, a module that will drill out a chunk of the moon and return with it.
China's lunar exploration scheme, which includes long-term plans for piloted moon missions, underscores the ambitious scope of a space programme that has come a long way, especially in recent years, since its launch 50 years ago.
On Thursday, China sent a science research satellite into orbit, marking the country's first space mission this year.
In 2003, China became only the third country -- after the United States and Russia -- to launch a man into space aboard its own rocket. Last year, it sent two men into space aboard another ship.
Yang Duohe, with China's Lunar Exploration Programme Centre, said the lunar fly-by was on schedule.
"It will be next year in April," he said.
The moon shot will take several days, including about three days of orbit around the earth, during which the craft will use gravity as a catapult to fling it on the more than four-day journey to the moon.