Ivanov: Russia, China multiple military exchanges
(Xinhua)
Updated: 2006-04-27 09:18
Military exchanges have been multiple between Russia and China and will involve more activities during the Year of Russia in China and the Year of China in Russia, said Russian Minister of Defense Sergei Ivanov in Beijing Wednesday.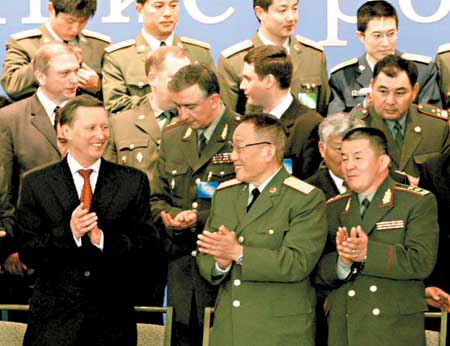 Defence Minister Cao Gangchuan (front row, centre), Russian Defence Minister Sergei Ivanov (front row, left), their counterparts from the member states of the Shanghai Co-operation Organization and other officials at a photo session in Beijing yesterday after a Defence Ministers' Meeting. [China Daily]
Exchanges and visits between the Russian and Chinese militaries have been soaring in recent years. Russia takes China as a prior partner in the military field, said Ivanov at a press conference.
The joint military drill held in China last year gave a good chance for Russian soldiers and officers to conduct exchanges with their Chinese counterparts, he said.
This year, "Russian Knights" has held a three-day aerobatic show in China as the prelude of the Year of Russia in China. Sports, singing and dancing programs have also been held by the military departments of the two countries, he added.
The Year of Russia is being held in China and the Year of China is scheduled to be held in 2007 in Russia. A large range of activities are arranged to mark the national years, which involve national exhibition, business summits, cultural weeks and so on.
Ivanov is here attending a meeting of defense ministers of the members of the Shanghai Cooperation Organization which was held Wednesday.
The defense ministers of China, Russia, Kyrgyzstan, Tajikistan, Uzbekistan and Kazakhstan gathered in Beijing to discuss regional security issues.
During the meeting Wednesday morning, they reached consensus on further strengthening defense cooperation and agreed to stage a joint anti-terror military exercise in Russia in 2007. A joint communique was issued at the end of the meeting.