NASA head Michael Griffin said he had accepted an invitation to visit China for talks on possible Sino-American space cooperation.
"The Chinese have offered an opportunity ... to discuss cooperation," Griffin told the Senate Subcommittee on Science and Space, while not specifying a date.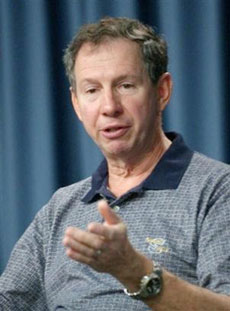 NASA Administrator Michael Griffin fields questions during a news conference at Kennedy Space Center in Cape Canaveral, Fla. Friday, May 20, 2005. [AP]

"I think the US always benefits from discussions and I do not see how it can hurt us," said Griffin, administrator of the National Aeronautic and Space Administration.

In early April Luo Ge, a senior official of the China National Space Administration, said he had complained to Griffin about US resistance to cooperating with China on space, particularly on the International Space Station, which involves Russia, Europe, Canada and Japan.

Insisting that China wants to join the space station project, Luo said he told Griffin that the US was much more open on his first visit to the United States in 1980, and that today it is the complete opposite.

The Pentagon and a number of lawmakers have opposed cooperation with Beijing, claiming that China's young space program as a potential threat to the US satellite system which underpins American military power.

China launched its first manned space mission in 2003, joining the exclusive club of the United States and Russia. In 2005 it carried out a second space flight with two astronauts.

Beijing has said it plans to send an unmanned probe to the moon in 2010 and to build its own space station.

Chinese spends the equivalent of 500 million dollars a year on its space program, compared to NASA's 17 billion dollar proposed budget for 2007.

Griffin was quizzed Tuesday by lawmakers on whether China was a rival or a partner in space exploration.

"The United States needs good competitors and it needs good partners and sometimes they can be the same," he told them.

"Twenty years ago few people would have said that Russia will be our best partner in the Space Station," he noted.