While Hong Kong's business sector is committed to closer cooperation with the Chinese mainland, the city's single men have also picked up the trend by finding their spouses northward.
In 2005, some 8,100 male Hong Kong citizens got their status of being single certified so as to register with their mainland girlfriends, according to a research results published on a monthly journal of Hong Kong's Census and Statistics Department.
The research also showed that 16,800 mainland females traveled south last year to Hong Kong to tie knots with their local sweethearts.
Plus the two figures, there were some 24,900 Hong Kong men marrying mainland women last year, according to Tuesday's Chinese- language daily Ta Kung Pao.
Talking about the chemistry between Hong Kong men and mainland girls, celebrities were among the first that live the north-and- south romance.
In July 2002, Antony Leung, the former Hong Kong financial secretary, married Fu Mingxia, the mainland Olympics diving champion.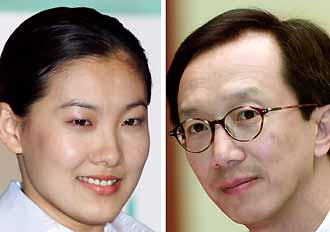 Hong Kong Financial Secretary Antony Leung (Right), who is 50 years old and divorced, confirmed media reports on March 23, 2002 of a romantic liaison with diver Fu Mingxia, the 23-year-old Olympic diving champion. The pair had been spotted together in public on several occasions. [Reuters]
While stories of the couple's family life appearing on local tabloid's headlines, the Hong Kong media has aggressively exposed more relationships between Hong Kong and mainland celebrities, which include the mainland actress Zhang Ziyi.
The Census and Statistics Department's research showed that relationship between Hong Kong men and mainland women has become a trend among local people.
In 2001, there were 18,380 such couples registered. Five years later, the number jumped to 24,900, a surge of more than 30 percent.
The figure not only represents an 18.8 percent growth over the previous year in the number of mainland women marrying Hong Kong men, but also much higher than the number of last year's Hong Kong brides marrying local men.
When seeking for a wife, the research noted, some Hong Kong males have probably been intimidated by the good education background and high income of many single local women.
The other explanation is the enlarged exchange between the people of Hong Kong and the mainland, boosted by increasing economic and trade cooperation.
"The increasing number of mainland women marrying Hong Kong men is related to the implementation of the Closer Economic Partnership Arrangement (CEPA) and the Individual Visit Scheme ( aimed to attract more mainland visitors)," said the Ta Kung Pao.
Having been implemented for two years, CEPA has benefited 27 service sectors, created 29,000 new jobs in Hong Kong and saved the business here a total of 240 million HK dollars (30.98 million U.S. dollars) in tariffs, said Hong Kong Financial Secretary Henry Tang.
Though there's no accurate statistics related to the exchange of people between Hong Kong and the mainland, the scale is full of potential.
In 2005, some 12.5 million people from the mainland visited Hong Kong, accounting for almost half of all visitors to the city in the whole year, while tens of thousands Hong Kong citizens have purchased property and resided in the mainland.