More than 300 Chinese who were evacuated from riot-torn Solomon Islands arrived in Guangzhou early this morning from Papua New Guinea.
The 310 people, including 21 from Hong Kong, landed at Guangzhou Baiyun International Airport on a chartered Boeing 777.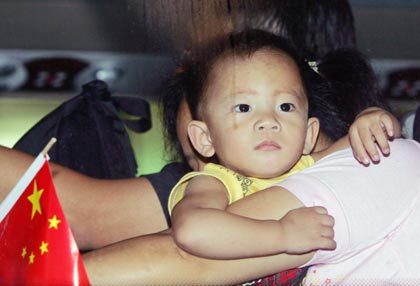 A young Solomon Islander of Hong Kong descent is carried onto a bus after arriving in Guangzhou, southern China's Guangdong province, April 25, 2006. More than 300 Chinese, including some from Hong Kong, board a chartered flight provided by Beijing that evacuated them from the troubled Solomon Islands after they lost all their possessions in the recent riots in Honiara. [Reuters]
On Saturday, China started airlifting Chinese from Honiara, Solomon Islands' capital, which witnessed days of riots sparked by the controversial election of Prime Minister Synder Rini last week.
The Chinese were the main targets and victims of the riots. The Chinatown was almost levelled following looting and arson, leaving many homeless and ruined after their businesses were lost.
The evacuees arrived at Port Moresby, capital of Papua New Guinea, on board four chartered planes.
The Chinese Government has been closely monitoring the situation in the Solomon Islands and activated an emergency response system as soon as the riots started.
President Hu Jintao and Premier Wen Jiabao have instructed the Foreign Ministry to take measures to ensure the safety of Chinese nationals in the South Pacific state.
The All-China Federation of Returned Overseas Chinese sent a message to the Chinese Embassy in Papua New Guinea yesterday, pledging to help the affected Chinese people.
Since China and the Solomon Islands do not have diplomatic relations, the Chinese Embassy in Papua New Guinea sent commercial chartered planes to fly the Chinese out of Solomon Islands.
The last group of 63 Chinese nationals were evacuated in the embassy's fourth mission yesterday afternoon.
The Foreign Ministry issued a warning on Sunday asking Chinese citizens to avoid travelling to the Solomon Islands, saying riots could continue.
Li Wei, a researcher with the China Institute of Contemporary International Relations, said the exercise shows the country's "capability to arrange evacuation missions when the situation goes out of control in a foreign country."