Once bitten, twice well, a little shy.
That's the relationship between Wang Yuan and shares.
The stock market has posted impressive gains this year, bucking a four-year trend, but the lawyer is not yet ready to be drawn in.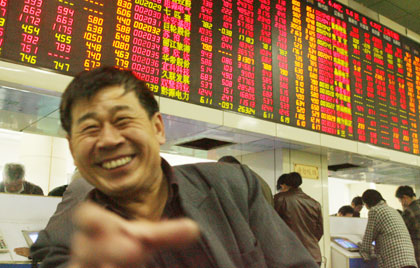 An investor smiles in a stock exchange office in Jinan, Shandong Province as the Shanghai composite index rose to 1416.79 points on April 21, 2006. [newsphoto]


The scars still linger, Wang tells China Business Weekly he lost a third of his investment when he bailed out of the stock market last year.

On Friday, the Shanghai composite index scaled 1416.79 points the highest level this year but Wang fears there might not be much more upside.

He keeps a close eye on the rising stock indices but experience has taught him to be prudent.

Wang's cautionary tale is typical of Chinese investors who watched helplessly as the market went south over the past four years.

But the climbing index has seen a corresponding rise in Wang's confidence, and he is waiting for the right moment to buy.

This year, the benchmark Shanghai composite index has risen 20 per cent and the Shenzhen composite index has climbed 31 per cent.

Certainly, it has not gone unnoticed which is reflected not only in the rapidly-growing numbers of new retail investors. An average of 7,000 people have registered with the depository house each day this month, and foreign investors are showing keenness in A shares.

"I have seen more than 200 institutional investors in the United States and Europe over the past two months, and they repeatedly expressed interest in A shares," Gong Fangxiong, director of JP Morgan's China research department, said earlier this month.

The securities regulator has surely sensed the public's surging confidence. As if on cue, it announced on April 16 that it would lift a ban on listed companies issuing additional shares on domestic exchanges.

"We believe that the share conversion plan has gone smoothly and steadily and the issue of non-tradable and tradable classes of equity looks likely to be resolved soon," the China Securities Regulatory Commission said in a statement last week.