Chinese evacuated from Solomons
(Reuters/chinadaily.com.cn)
Updated: 2006-04-24 16:29
China sent a chartered aircraft on Monday to fly back hundreds of Chinese who fled the Solomon Islands to avoid last week's riots, Xinhua news agency said.

The China Southern Airlines aircraft left the southern city of Guangzhou for Papua New Guinea, where about 300 Chinese have been staying since they were airlifted by Beijing out of the Solomons' capital, Honiara, over the weekend.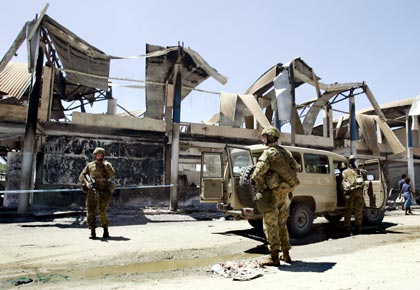 Australian soldiers stand guard on a street in the Chinatown district of the Solomon Islands' capital Honiara April 24, 2006. The Solomon Islands parliament was sworn in under heavy security on Monday amid fears the first sitting since last week's devastating riots in the capital could trigger further violence. [Reuters]


Chinese President Hu Jintao, on a state visit to Saudi Aradia, on Sunday instructed the foreign ministry as well as Chinese embassies and consulates in Papua New Guinea and other countries to take measures to practically protect the security of the overseas Chinese in Solomon Islands and help them tide over the current hardships facing them.

Chinese Premier Wen Jiabao also asked the Foreign Ministry and relevant departments to watch the development of the Solomons situation, and to take every possible measure to ensure the safety of all people of Chinese origin in the islands country.

The Hong Kong-based newspaper Wen Wei Po said that some 350 people, including 20 from Hong Kong, would be on board the flight which is due back in Guangzhou on Monday evening.

Xinhua said the majority of the passengers would be women and children of families that left China over the past two or three decades, many of whom have relatives in Guangdong province. Many men stayed behind in the Solomons to guard their property.

The first batch of 15 Chinese expatriates from the Solomons returned to China on Sunday, state media said, adding their suffering had prompted top leaders to urge Chinese diplomats to take "whatever necessary measures" to help.

"I am very excited that I managed to return to China safely," businesswoman Tian Suiying was quoted on Monday by the Beijing Times as saying upon her arrival in Guangzhou.

"All my businesses, like restaurants and grocery shops, have been burnt down. The losses have been terrible," Tian said.

Two days of rioting and looting destroyed Honiara's Chinatown, with buildings burnt to the ground, forcing some Chinese to jump from windows and flee across a river. Australia, New Zealand and Fiji have sent troops and imposed a curfew.

Angry mobs attacked Chinese facilities.

Chinese number just a few thousand in the 550,000-strong population of the Solomons but they are economically powerful. Many fled their homes with no more than the clothes they were wearing and were sheltered by the Red Cross inside the police headquarters.