G-7 talks focus on oil prices, and China
(chinadaily.com.cn/agencies)
Updated: 2006-04-24 08:43
Global finance chiefs wrapped up three days of talks in Washington DC, calling for action against runaway oil prices. They also urged the IMF to tighten its monitoring of national currency policies, a measure promptly rejected by the head of the Chinese central bank.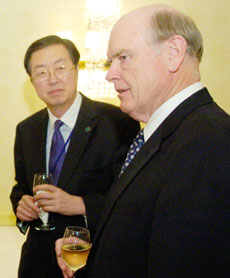 China's central bank Governor Zhou Xiaochuan (L) and U.S. Treasury Secretary John Snow talk over drinks before a dinner in Washington April 21, 2006. The two are in Washington for a round of G7 meetings. [Reuters]

"Each country is entitled to choose an exchange rate system consistent with its own economic development," People's Bank of China governor Zhou Xiaochuan told journalists, according to an AFP report.

The gathering of finance ministers and central bank governors backed plans to meet a long-standing demand by emerging market countries for a greater stake in decision-making at the International Monetary Fund (IMF).

Fund policymakers asked IMF chief Rodrigo Rato to develop "concrete proposals" on voting reform in the institution by a September gathering in Singapore. A French official later said China and South Korea could be among the first countries to benefit from an enhanced stake-holding in the IMF.

World Bank policymakers for their part launched a new anti-corruption drive and gave final approval to the cancellation of 37 billion dollars in debt owed the Bank by 17 poor countries, most of them in Africa. The World Bank in addition unveiled a two-year project aimed at promoting the use of clean energy in developing countries.

Energy needs were also very much on the minds of the Group of Seven industrial powers, who on Friday declared that it was "crucial" for oil producing countries to boost infrastructure investment in the face of soaring crude oil prices.

While G7 finance leaders -- representing Britain, Canada, France, Germany, Italy, Japan and the United States -- agreed that the global economic outlook remained favorable, they warned that oil prices were a menacing cloud on prospects.

Stepped-up pressure for increased oil production prompted a blunt reminder from the Organization of Petroleum Exporting Countries (OPEC) that oil consuming nations bore a responsibility to build more refineries in order to ease supply constraints.

In talks, the G7 asserted that it was "critical" for China and other Asian economies to pursue greater currency flexibility. For more than a year, Washington has been prodding both its G7 partners and the IMF to take a stronger stand on China's system of managing its currency -- the yuan - to a tightly floated trading regime.