Australia is sending additional troops to the Solomon Islands, as more Chinese nationals fled the country on Sunday amid rising tensions before parliament opens for the first time since post-election rioting.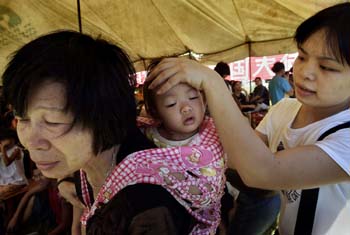 Chinese people wait to be escorted to Honiara airport in the wake of recent violence against the Chinese community April 23, 2006. [Reuters]
The election of new Prime Minister Snyder Rini sparked two days of rioting last week in the capital Honiara, where a curfew has been imposed. A peacekeeping force from Australia, New Zealand and Fiji is patrolling the capital.
About 50 soldiers from New Zealand arrived on Sunday.
Australia's Defence Minister Brendan Nelson said on Sunday another platoon of 25 soldiers would be sent to the Solomons to guard the airport, joining 300 military personnel in Honiara. Two patrol boats would arrive this week, he told ABC television.
About 150¡¡Chinese people were airlifted out of Honiara on Sunday, travelling to the airport under heavy security in the back of three small trucks. They will join 90 Chinese who were flown to Papua New Guinea on Saturday on a Beijing chartered aircraft and will eventually be repatriated to China.
PARLIAMENT LOCKED DOWN
The military will lock down the Solomons parliament on Monday when MPs meet for the first time since an election earlier this month. That poll was the first since Australian-led peacekeepers restored law and order in 2003 after violent ethnic unrest.
Opposition parties have already moved a no-confidence motion against Rini, which is due to go to a vote on Wednesday. Both sides claim they have the numbers to be successful.
Church leaders appealed to congregations on Sunday for calm and asked looters to return what they had stolen.
"As soon as the Chinese have the courage to open their doors again, they should go in and shake their hands and say sorry," Catholic Archbishop Adrian Smith told Honiara's packed Holy Cross church.
Honiara's Chinatown was destroyed in the rioting and looting, with buildings burnt to the ground, forcing some Chinese to jump from windows and flee across a nearby river. The Chinese number just a few thousand in the Solomons' 550,000-strong population.
"I hope there no more violence this week, because it will make the whole country's economy a lot worse," said Moon Pinkwan, 55, whose shop was burnt down.