Beijing mayor urges slum demolition for Olympics
(AP)
Updated: 2006-04-22 15:25
Beijing's mayor has called for a speeding up of the demolition of impoverished neighborhoods in China's capital as part of preparations for the 2008 Olympics, the Beijing Daily reported Saturday.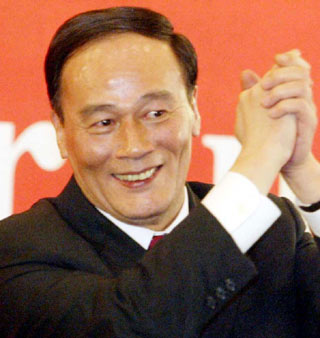 Wang Qishan at a news conference in Beijing February 21, 2004. [newsphoto]


On a tour of one area in the process of being razed Friday, Mayor Wang Qishan told officials and construction workers that demolishing the dilapidated neighborhoods is an essential task this year and that the work must be accelerated, the newspaper said.

Beijing is undergoing a thorough makeover for the 2008 Games, spending an estimated US$40 billion (euro32 billion) to put up sporting venues, lay down new roads and subway lines, build residential communities in the suburbs and beautify the capital.

Part of the effort targets poorer areas known as "inner city villages" _ where many homes were built illegally and many of whose residents are rural migrants.

The Beijing Daily said about a third of these areas designated for destruction have been torn down, with the rest to be finished by year's end.

"This work is full of significance in strengthening the environment, building a livable city and realizing the strategic plan of a 'New Beijing, Great Olympics,"' the newspaper quoted Wang as saying.