Chinese Vice President Zeng Qinghong urged Asian countries to seize opportunities for win-win progress at Boao Saturday morning.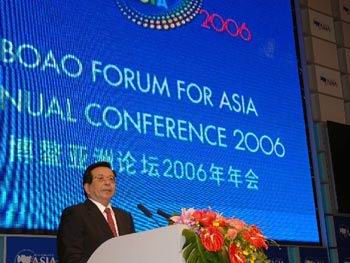 Chinese Vice President Zeng Qinghong delivered a keynote speech at the opening ceremony of the Boao Forum for Asia Annual Meeting 2006 on April 22, held in this small scenic town of southern China's Hainan Province. [Xinhua]


At the opening ceremony of the Boao Forum for Asia Annual Meeting 2006, Zeng pointed out three opportunities Asia faces to echo the theme of the conference, "Asia Searching for Win-Win: New Opportunities for Asia."

The first opportunity is that Asia is in a relatively stable and peaceful period for development rarely seen in its history.

"We often say that Asia should seize an opportunity for win-win progress. Now we are faced with this important opportunity," he said.

The second one is that Asia has become one of the most dynamic regions in the world thanks to the joint efforts of the governments and peoples of Asian countries, he said.

Zeng noted Asia has registered an unprecedented sound momentum of development, marked by the unleashing of huge market potential, effective economic restructuring in various countries and areas, accelerating industrial upgrading and fast and sustained economic growth.

"This has made Asia one of the most dynamic regions in the world and this is another opportunity that Asia should seize for a win-win progress."

Cooperation based on equality, diversity, openness and mutual benefit is taking shape in Asia. The overall peace, stability and development in Asia have led to fast progress in the regional cooperation process, he said.

He added various regional and sub-regional economic cooperation mechanisms have grown in strength, which include the Association of Southeast Asian Nations, the South Asian Association for Regional Cooperation, Asia Cooperation Dialogue, those in East Asia and Central Asia, and multilateral and bilateral free trade arrangements.

These positive and major developments have brought about both favorable conditions for regional cooperation and historical opportunities for the development of Asia, he said.

"We should respect and treat each other as equals, seize the opportunities of development and hold our destiny in our own hands."

By doing this, he said, Asian countries and areas will certainly achieve mutual benefit and win-win progress and promote development and rejuvenation of Asia.

About 850 Chinese and overseas officials, business people and scholars are present at the annual meeting in the coastal scenic town in south China's island province of Hainan.

Young tycoons share insights on leadership

Rich people tend to be the focus of attention whatever they do, and this is particularly true of the young rich.

So the ongoing Boao Forum for Asia held a 21st Century Leaders Roundtable on Friday and invited many of China's most successful young entrepreneurs.

They included Robin Li, Huang Guangyu and Pan Gang, who were there to reveal their success stories and to give an insight into what makes a good leader.

It was the first time the forum, an annual gathering to discuss business issues, had opened a special session for young business leaders.

Most of the young billionaires attributed their success to passion and perseverance, despite popular belief that their success came quickly.

"Over the past six years I've had many difficulties," said Robin Li, CEO of the online search engine Baidu.com. "But I never lost my passion."

Baidu now has links to 1.2 billion Chinese web pages, he said. The 38-year-old Li founded the Chinese equivalent of Google and Yahoo six years ago.

Aside from pursuing more business success, the young tycoons also talked about social responsibility.

"Speculation and seeking short-term interests do not make great business," said Huang Guangyu, chairman of Gome Electrical Appliances, China's top appliance retailer.

"Incorporating business goals into overall social development is the right path for a company to take," he said.

Huang, 37, started his business venture when he was 17 with 4,000 yuan (US$380) in his pocket. Today his Gome chain has more than 460 outlets countrywide. Gome's listing in Hong Kong in 2004 made him a billionaire.

Pan Gang, president of Yili Group, one of the country's leading dairy producers, said being a young leader means more than just handling a business.

"Leadership requires strategic thinking and foresight, whereas business management is about details," he said.