Lien Chan arrives in E. China province
(Xinhua)
Updated: 2006-04-22 10:18
The Chinese Kuomintang (KMT) party Honorary Chairman Lien Chan arrived in Hangzhou, capital of east China's Zhejiang Province, on Tuesday morning.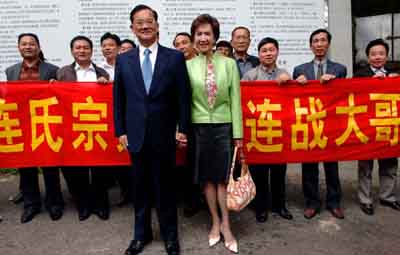 Chinese Kuomintang Honorary Chairman Lien Chan (L) and his wife Lien Fang-yu take a photo with local people holding a welcome banner during their visit to Yongquan Temple in Mawei, southeast China's Fujian Province, on April 18, 2006. [Xinhua]


Xia Baolong, deputy secretary of Zhejiang Provincial Committee of Communist Party of China (CPC), greeted Lien at the Xiaoshan International airport.

During his two-day visit to Zhejiang, Lien is scheduled to meet provincial government leaders and visit the scenic West Lake in Hangzhou.

Lien paid tribute to his ancestors in Zhangzhou City and received an honorary doctor's degree from Xiamen University in eastern Fujian Province before arriving in Zhejiang.

He arrived in Beijing on April 13 to attend the Cross-Strait Economic and Trade Forum. He also met with President Hu Jintao, who is general secretary of the CPC.