President Hu Jintao offered reassurances on Friday that China seeks a peaceful development to economic prosperity, a theme he has articulated since the first stop of his four-day US trip.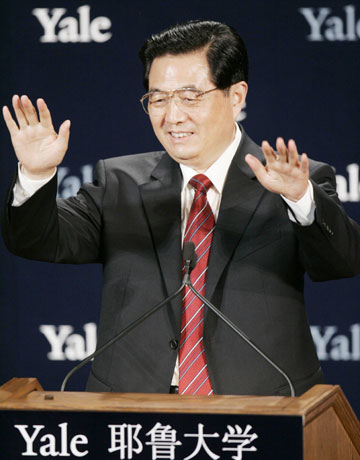 Chinese President Hu Jintao gestures to the audience at the beginning of his address during his visit to Yale University in New Haven, Connecticut, April 21, 2006. [Reuters]


Hu said China commits itself firmly to peaceful development and holds high the banner of peace, development and co-operation.

"China seeks to accelerate its development by upholding world peace and in turn enhance world peace through its development," he said during a speech at the Sprague Hall of Yale University in Connecticut.

Hu was addressing an audience of 600 people, including Yale University top officials, members of the board of trustees, professors and students, as well as representatives from local Chinese businesses.

"China is inclusive and is eager to draw on the strength of other civilizations to pursue peace and development, and play its part in building a harmonious world of peace and prosperity," he said.

His historic trip to the elite university, where US President George W. Bush once studied, came following a summit on Thursday with Bush, which Hu described as "fruitful."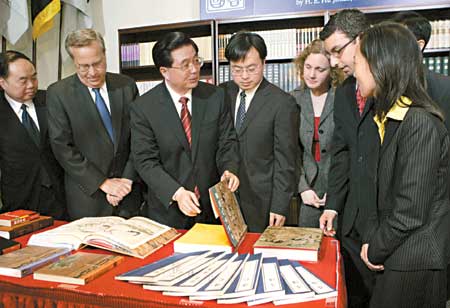 President Hu Jintao (2L) shows Yale University students some of his gifts of Chinese books to the university as Yale University President Richard C. Levin (left) watches in New Haven, Connecticut, on Friday. [Reuters]


During his one-hour speech, which was broadcast live back in China, Hu elaborated on China's development strategy and its future in a bid to promote a better understanding of China.

Hu stressed that China, despite its fast economic growth over the past two decades, remains the world's largest developing country and still faces daunting challenges in its endeavour to develop.

"It requires sustained and unremitting efforts to transform our country and make life better for our people," he said.

Although China has achieved an economic miracle in the past 28 years, "any number divided by 1.3 billion will become very small," Hu said, noting that China's per capita ranking is still behind 100th place in the world.

"We have encountered many difficulties. We hope to see a peaceful international environment. China's development will not compromise the interest of other countries."

The president said China has adopted a scientific concept of development, focusing on sustainable development by boosting production, improving people's life and protecting the environment.

Turning to China's history, Hu said the decision to pursue peaceful development is deeply rooted in its historical and cultural traditions, which give prominence to unity, mutual assistance and good neighbourliness.

Hu highlighted the importance of closer Sino-US relations.

"The different historical backgrounds and national conditions between China and the United States enable us to learn from each other and draw on each other's strength," he said, winning applause from the audience.

Citing the anti-terrorism fight, environmental protection and combating transnational crimes as examples, Hu said the common interests between the two powers are increasing and the areas of bilateral co-operation are also widening.

Hu said he and President Bush share the view that the two sides should approach bilateral ties from the strategic and long-term perspective.

As long as both sides focus on the overall interest of China-US relations, respect and show understanding to each other, bilateral ties will move ahead in a healthy and steady manner, the president said.

"What impressed me is his very direct answers to very difficult questions," said Steven M. Chapman, group vice-president of Emerging Markets & Businesses for Cummins Inc, after a question-and-answer session following Hu's speech.

William Reilly, head of environment for former US President George Bush, said: "I am impressed (with his speech). He is very open."

Before the speech, Hu met with Yale President Richard C. Levin, who has visited China six times.

At a private reception in Levin's office, Hu presented Yale with a donation of more than 1,300 books from China.

In return, Yale presented a portrait of Yung Wing (1828-1912), the first Chinese student to study in the United States, who graduated from Yale in 1854.

The school, founded in 1701, has more than 80 academic collaborations with Chinese institutions and offers 26 study sites in China.

During the speech, Hu announced that China has decided to invite 100 Yale faculty members and students to visit China this summer.

Today, 300 of Yale's roughly 11,000 students are Chinese, the largest contingent from any foreign country.

There are also more than 300 visiting scholars from China at the university.