China's growth contributes to peace
By Sun Shangwu (China Daily)
Updated: 2006-04-21 14:37
WASHINGTON -- Visiting Chinese President Hu Jintao told US business and political leaders that China's future growth will require a peaceful environment, and, its growth will only contribute to regional and world peace.

"China must pursue a path of peaceful development if it is to meet the goal of modernizing itself," Hu said Thursday in a speech delivered at the dinner hosted by some friendly organizations, including the US-China Business Council, the National Committee on US-China Relations and the US Chamber of Commerce.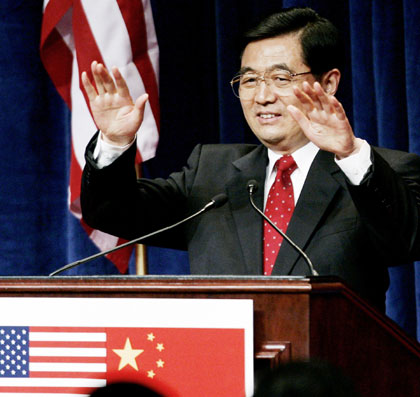 Chinese President Hu Jintao calls for the audience to take their seats as he prepares to deliver his speech in Washington April 20, 2006. [Reuters]


The Chinese top leader said that China's decision is deeply rooted in its historical and cultural tradition.

"The path of peaceful development embodies the national trait fostered in the Chinese culture over several thousand years and accords with the lofty pursuit of the Chinese people who love and value peace."

Such a decision also conforms to the trend of the times and is in keeping with human progress, said Hu, noting that China plays a "responsible and constructive role" in promoting world peace and development.

He put forward six-point proposal to advance China-US relations, which is believed by leaders of the two countries to "have gone far beyond bilateral context and become increasingly global in importance."

Hu made the speech after hosting summit with US President George W. Bush, during which the two leaders agreed that there are many strategic interests between the two countries. Hu's proposals include:

* Increase understanding, expand common ground and build long-term and stable constructive and cooperative China-US relations.

* Seize opportunities, be creative, consolidate and expand the foundation for bilateral economic co-operation and trade.

The two countries should encourage companies to build strong business ties and explore new opportunities in such sectors as telecommunication, environmental protection and services and strengthen strategic consultation on energy.

China will continue to honor its World Trade Organization accession commitments, expand market access, strengthen protection on intellectual property rights and increase import from US. While US should take positive steps to promote the growth of business ties.

* Adhere to principle, honor commitment and properly handle the question of Taiwan in accordance with the three China-US Joint Communiques.

China will continue to make every effort and work together with Taiwan compatriots with every sincerity to ensure the peaceful and stable development of cross-Straits relations and China's peaceful reunification.

But China will never allow the "Taiwan independence" secessionist forces to split Taiwan from China under any name or in any form.

China appreciates US Government's commitment on one-China policy and opposition to "Taiwan independence" and urges it to honour its commitment.

* Maintain close consultation, take up challenge and strengthen communication and coordination on major international and regional issues.

China is ready to deepen anti-terror co-operation with US on thee basis of reciprocity and mutual benefit, work with US to uphold international non-proliferation regime, properly address the Iranian nuclear issue through diplomatic means and negotiation and continue to peacefully resolve the nuclear issue on the Korean Peninsula through the six-party talks.

* Draw on each other's strengths and strengthen friendly exchanges between the two peoples.

The two countries should step up co-operation in science and technology, culture and education, increase exchanges between media and think tanks, between provinces and cities as well as among young people.

* Respect each other, treat each other as equals and view differences in a proper context and manage them properly.

China will continue to reform its political structure, develop socialist democracy, expand citizens' orderly participation in political affairs and ensure that people exercise democratic election, democratic decision making, democratic management and democratic monitoring in accordance with the law.

China will keep advancing human rights in the course of its social development and the Chinese people fully enjoy freedom of religious belief as provided by law.

Due to different national conditions, it is normal for China and US to disagree on some issues and they should seek common ground while shelving differences and conduct consultations on an equal footing.

"Hu's speech is very good, especially on the economic side," said Michael Green, an expert from the Center for Strategic & International Studies, which is one of the hosts of the dinner.

China has made concrete efforts to push bilateral economic and trade relations, including the purchase of US commodities as well as the promise of reforming the Renminbi exchange rate regime, said Green in an interview with China Daily after the speech.

US has higher expectation on China in security sector, hoping China to play a bigger role in resolving nuclear issues of Iran and on Korean Peninsula, said Green.