WASHINGTON -- US President George W. Bush reiterated opposition to the Taiwan independence on Thursday and called for the avoidance of "confrontational and provocative" actions that will destroy stability across the Taiwan Straits.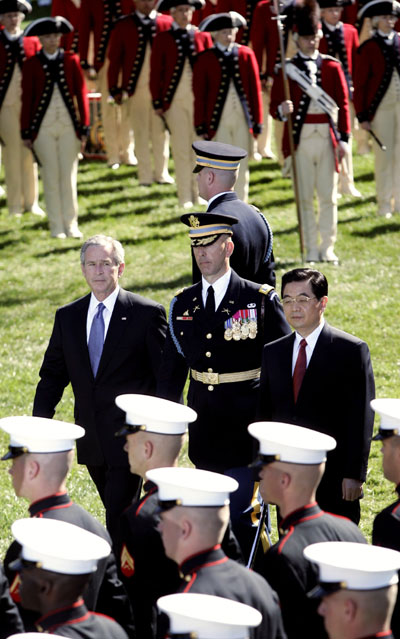 U.S. President George W. Bush and Chinese President Hu Jintao review an honor guard during a welcoming ceremony on the South Lawn of the White House April 20, 2006. [Reuters]


He made the remarks twice Thursday: first in the speech delivered at the welcoming ceremony for visiting Chinese President Hu Jintao on the White House's South Lawn that featured a 21-gun salute, and the second in their meeting with the press after their talks.

"We oppose unilateral changes in the status quo in the Taiwan Straits by either side. We urge all parties to avoid confrontational or provocative acts and we believe the future of Taiwan should be resolved peacefully," said Bush at the welcoming ceremony.

President Hu expressed appreciation for Bush's remarks, which do not want Taiwan authorities' change of stance to influence Sino-US relations.

Hu said that Beijing is willing to achieve the peaceful reunification with the "biggest sincerity and largest efforts", but will not allow Taiwan independence. Bush showed his understanding on China's concern, according to Hu.

Hu described his meeting with Bush as "pragmatic and constructive" and the two leaders also talked about wide-ranging issues, including the nuclear issues of Iran and Korean Peninsula. With nuclear negotiations with North Korea now at a standstill, Bush asked for Hu's help.

"I continue to seek President Hu's advice and co-operation and urge his nation to use its considerable influence with North Korea to make meaningful progress toward a Korean peninsula that is free of nuclear weapons," Bush said.

Hu urged all parties to make joint efforts for the resumption of six-party talks.

"The six-party talks have run into some difficulties at the moment. I hope that the parties will be able to further display flexibility, work together and create necessary conditions for the early resumption of the talks," Hu said.

The Chinese president said that China would make joint efforts with other countries, including the United States, to build a "long-lasting, peaceful world with common prosperity."

The Chinese President said that China and US have agreed to strengthen their exchanges and co-operation in military, law enforcement, science and technology, culture, education as well as the control of bird flu, energy, environmental protection and fight against natural disasters.

On trade, Hu said that the two countries have agreed to push the bilateral economic and trade relations with the purpose of "mutual benefit and win-win results."

Although the two countries have some problems, even friction on bilateral trade, China thinks the problems could be resolved through equal consultations.

"China adopts the policy of expanding domestic demand and depends its economic growth on expansion of its domestic market demand, and China does not pursue excessive trade surplus with US," said Hu.

China has launched the reform on the exchange rate regime of reminbi, and will continue to improve such regime, according to Hu.

He also promised to expand market access to allow more US commodities to enter China.

Meanwhile, Hu also urged US to relax its restrictions on export of technological products, especially high-tech products to China.

The US should also create equal opportunities for Chinese enterprises to enter US market, said Hu.

At the welcoming ceremony, Bush said that US welcomes the emergence of China that peacefully progress and supports international institutions.