U.S. President George W. Bush, welcoming President Hu Jintao to the White House, said on Thursday his nation intends to "build a relationship that is candid and cooperative" with China.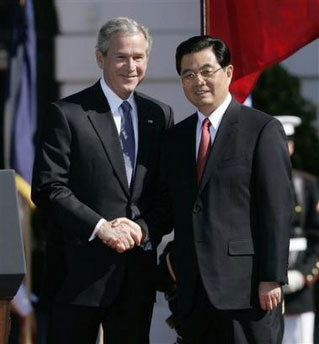 Chinese President Hu Jintao, right, shakes hands with President Bush during an arrival ceremony on the South Lawn of the White House, Thursday, April 20, 2006, in Washington. [AP]
President Hu, receiving a 21-gun welcome and a full military honor guard solute, reciprocated by talking to a massive audience of government officials from both countries that he has come " to enhance dialogue, expand common ground, deepen mutual trust and cooperation, and promote an all-around growth of constructive and cooperative China-US relations in the 21st century".
Hu emphasized in his address that Taiwan is an inalienable part of Chinese territory. And, Beijing will continue to make every effort and endeavor with every sincerity to strive for the prospect of peaceful reunification of the two sides across the Taiwan Straits.
"We will work with our Taiwan compatriots to promote the peaceful development of cross-Straits relations. However, we will never allow anyone to make Taiwan secede from China by any means," said the Chinese President.
Hu and his wife, Liu Yongqing, arrived at the White House in a limousine in bright spring sunshine, greeted by Mr Bush and the First Lady Laura Bush. Vice President Cheney, Secretary of State Rice, Secretary of Defense Rumlsfeld were among the greeting team.
"The United States and China are two nations divided by a vast ocean, yet connected through a global economy that has created opportunity for both our peoples," Bush said. "The United States welcomes the emergence of a China that is peaceful and prosperous and that supports international institutions.
Bush said that as stakeholders in the international system, the two countries share many strategic interests. He noted that bilateral trade had grown to US$285 billion last year, with US exports to China rising a remarkable 21 percent.
He said that the United States welcome China's commitments to increase domestic demand, to reform its pension system, to expand market access for US goods and services, to improve enforcement of intellectual property rights and to move toward a flexible market-based exchange rate for its currency, the yuan.
Mr Bush also solicited help in his welcome address from China to "deepen our cooperation in addressing threats to global security", including the Iran and North Korea nuclear disputes.
He said that the countries will continue to cooperate to fight avian flu and other pandemic diseases, to cooperate to respond to natural disasters, to cooperate to develop alternatives to fossil fuels.