Air China inks deal to buy Boeing planes
(Reuters)
Updated: 2006-04-20 18:14
Air China Ltd. said Thursday it signed an agreement to buy 15 Boeing Co. 737 aircraft that have a list price of $982.8 million as part of an earlier-disclosed package deal that involved eight Chinese airlines buying 80 737 jetliners.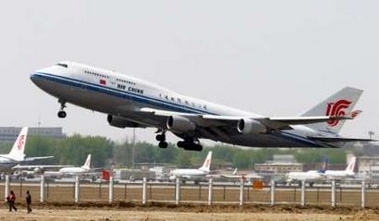 An Air China Boeing 747 aircraft takes off from Beijing's international airport April 20, 2006. [newsphoto]
The Hong Kong-listed airline said Boeing granted "significant price concessions" in the aircraft purchase, without elaborating. Boeing usually sells large aircraft orders at a steep discount to the list price.
Air China said the aircraft, scheduled for delivery between 2009 to 2010, will expand its fleet of passenger aircraft and "reinforce Beijing's position as a transportation hub." The company had a total of 176 aircraft at the end of 2005.
The airline said it will finance the purchase from internal resources, including bank loans and other debt instruments.
The airline's latest aircraft purchase is part of the 80 737 jetliners that China's official aircraft-purchasing agency bought from Boeing at a total list price of $5.2 billion last week.
The China Aviation Supplies Import & Export Group, which buys aircraft on behalf of Chinese carriers, signed a general-purchase agreement last week for 80 single-aisle 737-700s and 737-800s for eight domestic airlines including Air China.
The purchases by Air China came just five months after it agreed to buy 10 Boeing 737 planes to expand its fleet.
Last year, Boeing sold 120 aircraft in China and is on its way to selling the same number of airplanes in the country this year, the company said earlier.
Air China is 51.2 percent-owned by state-owned China National Aviation Holding Co. Hong Kong's Cathay Pacific Airways Ltd. also has a 9.9 percent stake in the mainland airline.