Hu visits Microsoft, vows better IPR protection
(chinadaily.com.cn/agencies)
Updated: 2006-04-19 10:36
SEATTLE - Chinese President Hu Jintao, on his way to talks with President George W. Bush, on Tuesday met with Bill Gates. The summit with Bush, expected to cover trade and moves to avert nuclear advances in North Korea and Iran, was also likely to touch on intellectual property.

After the meeting with Gates, the world's richest man, at Microsoft's headquarters, Hu reiterated that China would move against software pirates.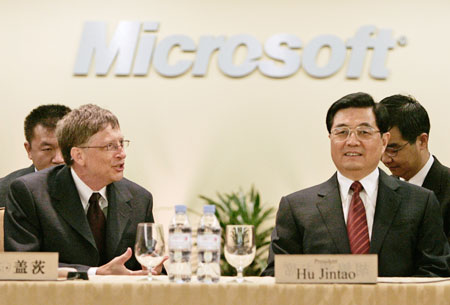 Chinese President Hu Jintao (R) meets with Microsoft chairman Bill Gates during a meeting at the company's headquarters in Redmond, Washington, April 18, 2006. Hu spent about an hour visiting and viewing some of the new technologies being developed for future homes. [Reuters]


At Microsoft Corp.'s campus, Hu said Tuesday he admired what Microsoft Chairman Bill Gates had achieved. He also sought to reassure Gates that China is serious about protecting intellectual property rights.

"Because you, Mr. Bill Gates, are a friend of China, I'm a friend of Microsoft," Hu said through a translator.

"Also, I am dealing with the operating system produced by Microsoft every day," he added, to laughter.

Gates responded: "Thank you, it's a fantastic relationship," and then said: "And if you ever need advice on how to use Windows, I'll be glad to help."

"China is focused on and has already accomplished much in creating and enforcing laws to protect intellectual property," he said. "We take our promises very seriously."

"Regarding intellectual property rights protection, it's not only needed by China as it expands its opening to the outside world, and improves the investment environment, it is also needed as we strengthen our innovation ability," Hu said.

Hu also said he would certainly welcome a further increase in Microsoft's investment in China.

"I'd also like to take this opportunity to assure you, Bill Gates, that we will certainly honor our words in protecting intellectual property rights," Hu said.

In his whirlwind visit to the Microsoft campus, Hu, accompanied by Gates, company CEO Steve Ballmer and an entourage of Chinese dignitaries, saw some business technology demonstrations and toured Microsoft's Home of the Future, which features experimental technology that might someday be used in people's living spaces.

In one demonstration, a vase outfitted with special technology, called a radio frequency identification tag, prompted screens on a display case to show pictures of areas where Hu has worked and lived.

In the kitchen, the counter displayed a recipe and instructions in Chinese for making focaccia bread, prompting Hu to ask if you still need a housekeeper if you have such advanced technology.