330,000-ton sand fell on Beijing
(Xinhua)
Updated: 2006-04-19 09:12
Sand covered about one-eighth of China from April 14 to 18 and about 330,000 tons of sand fell in Beijing on Sunday night.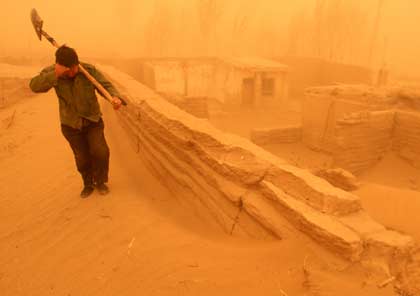 A Chinese farmer walks amid a heavy sand storm in Minqin County, northwest of China's Gansu Province April 10, 2006. A strong sandstorm hit northwest China on Monday, killing one person in Xinjiang Uygur Autonomous Region and compelling dozens of trains to halt for safety reasons. [Newsphoto]


The information was released at a press conference on sand storms held by the China Meteorological Administration (CMA) in Beijing on Tuesday.

This is the tenth instance of sandstorms in northern China this year and the eighth in Beijing, said Xiao Ziniu, deputy head of the Chinese Central Meteorological Station under the CMA.

"Most of the sand in Beijing comes from Inner Mongolia and areas abroad," Xiao said.

Beijing reported grade V pollution, the most serious level in pollution grading, according to the Beijing Municipal Environmental Protection Department.

Beijing has reported four blue sky days so far in April, challenging the target of achieving 230 clean air days a year. So far this year, the city has reported 56 blue sky days, 16 days fewer than in the same period last year.

Many residential communities in Beijing are cleaning the dust-covered roads by washing instead of sweeping.

The situation this year is worse than the past two years, Xiao said.

The sand storms this year could be attributed to high temperatures, prolonged droughts and frequent cold air, Xiao said.

From March, the rainfall in northern China is about 75 percent of the average figure in the previous years and some parts reported rainfall to be about 20 percent of the average figure in the previous years.

Cold air is frequent in March and April in northern China and it brings gales and sand storms to the areas.

According to forecasts, northern China will still experience three sand storms between April 18 and 27.