The White House has revealed what the United States cares most when President George W. Bush meets Chinese President Hu Jintao on Thursday: partnership to deal with world security issues, and a more balanced bilateral trade relationship.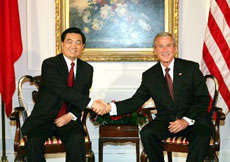 Chinese President Hu Jintao (L) shakes hands with US President George W. Bush in New York in this September 13, 2005 file photo. [Xinhua]

Bush will ask his Chinese counterpart to step up pressure on both Iran and North Korea to help end nuclear standoffs, and also, will bring up the topic that China needs to move faster on its currency, the Associated Press report quoted senior administration officials as saying on Monday.

In discussing Iran, Bush will raise China's role as a permanent member of the United Nations Security Council when the two leaders meet at the White House, said Dennis Wilder, a National Security Council official who overseas Asian affairs.

Bush will emphasize "that we need the Iranian government to assume a more responsible posture in relations to its nuclear ambitions," Wilder told a White House briefing to preview Hu's visit. The U.N. Security Council has demanded that Iran cease uranium enrichment work, which the United States and some of its allies suspect is meant to produce weapons. Russia and China have opposed punishing Iran.

President Hu was to be in Seattle on Tuesday.

"We will also be urging China to help us get the North Koreans to return to the six-party talks ... so that the people on the Korean peninsula have a future that's free from nuclear weapons," Wilder said.

Separately, Deputy Secretary of State Robert Zoellick said Chinese officials "need to be more than a mediator" in the negotiations, which had been held in Beijing until the current 6-month-long deadlock began. "They need to be a participant that recognizes that they have an interest in trying to solve this problem," Zoellick told a foreign policy forum.

An informal gathering last week in Tokyo of the six countries involved in talks to get North Korea to give up its nuclear program failed to produce a breakthrough in the stalled negotiations.

Zoellick also said China was saying the right things about wanting to more fully open its currency, the yuan, to market forces. "But the process of change seems agonizingly slow," he said.

Another senior administration official told White House reporters that, while Bush would raise the currency issue with President Hu, the administration did not expect any concessions on it from the Chinese leader at Thursday's meeting. The official spoke on condition of anonymity because he was not authorized to speak publicly on the matter, the Associated Press reported.

Meanwhile, Senate Democratic Leader Harry Reid of Nevada asserted that, more than five years into Bush's presidency, the administration "still has no coherent strategy for managing this nation's relationship with China."

In a letter to the president, Reid urged Bush to do more to protect U.S. economic and trade interests with China, and to ask Beijing to do more to improve human rights.

Dennis Wilder said Taiwan and China's defense policy would also be on the agenda.

"There is no auto pilot in U.S.-China relations, but relations have matured to the point where neither is this a terribly unusual meeting," Wilder said.