China, US to grapple with changing ties
(chinadaily.com.cn/Agencies)
Updated: 2006-04-17 09:19
Pundits say the trade dispute is the white elephant in the room when Chinese President Hu Jintao talks with U.S. President George W. Bush at the White House this week. Chinese experts say how to build mutual trust and to convince Washington that China's development is not a threat remains critical for the two giants.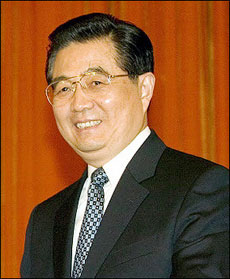 Chinese President Hu Jintao will travel to the United States this week aiming to build trust and convince Washington that China's rise is not a threat. [AFP]

The April 18-21 trip, Hu's first visit to the United States as president, will take him to the Boeing and Microsoft plants in Seattle and then to Washington DC where he will hold a summit with President Bush and meet with US politicians and business leaders. Hu is also scheduled to make a speech at the famed Yale University where Bush has studied.

"We hope this visit can push forward both sides to look closely at the importance and necessity of developing Sino-US relations from a strategic and long-term perspective," Vice Foreign Minister Yang Jiechi told reporters in a briefing in Beijing.

While trade and world affairs will likely dominate discussions, the two nations will also grapple with what kind of relationship they want to build at a time when distrust mixes with a recognition of the need to work together, analysts said. They said that Beijing has responded positively to a Washington call for it to act as a "responsible stakeholder".

"Cooperation means win-win, confrontation means lose-lose," said Zhu Feng, an expert on Sino-American relationship at the Beijing University.

Hu's trip comes as the world's largest economy and the biggest developing country face growing trade disputes, especially over China's currency. Washington believes the yuan is undervalued, giving Chinese exports an advantage and contributing to its record trade deficit.

China says Chinese products' competitiveness lies in its inexpensive labor cost, urging the United States, its second-largest trade partner, to keep buying Chinese goods. It also called Washington to lift the export ban on what China wants -- high-tech US products -- and allow China to make investments in the US in order to narrow the trade gap.