President Hu Jintao's upcoming visit to the United States will provide an opportunity for Americans to better understand China's policy of seeking sustainable development and peaceful growth, said senior foreign affairs officials on Friday.
Hu's trip to the US, from April 18-21, will take him to Seattle, Washington DC and Yale University. He is scheduled to meet US officials, congressmen, businesspeople, academics, workers and students.
Hu is expected to deliver speeches at Yale University and a welcoming dinner, which will elaborate on China's peaceful growth.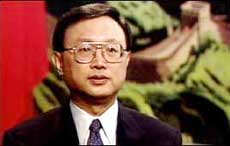 Yang Jiechi, vice foreign minister. [cnr]

Vice-Foreign Minister Yang Jiechi, also former ambassador to the United States, described the Taiwan question as the "most important and sensitive" one in Sino-US relations. He urged the United States to observe the one-China policy and make joint efforts with China to oppose and contain "Taiwan independence."

"The leaders will naturally talk about the Taiwan question during their summit," Yang added, referring to the meeting between Hu and US President George W. Bush. Yang expressed the hope that the United States would honour its commitments and send no wrong signals to secessionist forces on the island.

On economic and trade relations, Yang said the two sides should resolve their differences through "dialogue and consultation" on an equal footing.

A recent trade mission led by Vice-Premier Wu Yi to the United States resulted in business contracts worth more than US$16 billion. This proved "it is completely possible for China and the United States to properly handle their trade frictions," Yang said.

Also on Friday, Chinese Ambassador to Washington Zhou Wenzhong said the key to solving trade problems was to stick to the principles of "equality, mutual benefit and development," and avoid politicizing economic and trade issues.

Cheap and high-quality Chinese commodities have helped Americans save more than US$100 billion each year, said Zhou.

On the exchange rate of the renminbi, Yang said that China was "ready to hold exchanges with other countries" on the issue.

He said that China's currency reforms will be conducted according to the country's reality, but will consider the interests of other countries.

He said that the nuclear issues of Iran and the Korean Peninsula will be among the topics to be discussed during the Hu-Bush meeting. "We hope all parties will adopt a restrained approach; dialogue is better than confrontation," said Yang.

Regarding the nuclear issue on the Korean Peninsula, all parties are urged to adopt "flexible and practical measures" in order to resume the Six-Party Talks, said Yang.

(China Daily 04/15/2006 page1)