Skulls stolen from unmarked graves
(China Daily)
Updated: 2006-04-14 06:30
Police have confirmed the 121 skulls with their tops missing found in Northwest China's Gansu Province were discarded by grave robbers who sold the tops as handicrafts.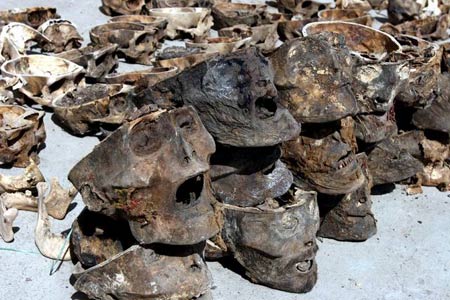 A total of 121 skulls whose tops had been sawn off were discovered last week in a forest in Northwest China's Gansu Province. DNA tests are underway to work out if the skulls belong to human being. The skulls were first thought to be monkeys, but a local professor held a suspicion that they belong to human being as he had found plastic teeth in a jaw of one of the skulls. [Lanzhou Morning Post]


An announcement made by Gansu police on Wednesday evening said three farmers, identified only by their surnames, Qiao, Liang and Liu, dug up the skulls from unmarked graves, removed the tops and processed them to be sold as handicrafts.

The police have determined that Qiao, a farmer from Huzhu County of Northwest China's Qinghai Province, stole the skulls from graves in the desolate countryside with the help of his friends, and then sold them to another Huzhu native Liang.

Liang sawed the tops off, sold them to Liu from Yongjing County of Gansu, who used the tops to make handicrafts and then sold them.

Liang then discarded the leftover skulls in a ravine in an outlying mountainous area of Gansu's Tianzhu Tibetan Autonomous County before this year's Chinese Spring Festival, the police said.

All those involved have been questioned, and investigations are ongoing, according to the police.