At the invitation of Cambodian Prime Minister Hun Sen, Chinese Premier Wen Jiabao arrived here Friday by a special plane for an official visit to the southeastern Asian country.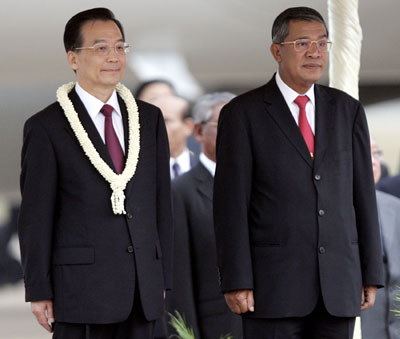 Chinese Premier Wen Jiabao (L) and Cambodian Prime Minister Hun Sen stand while national anthems are played in Phnom Penh April 7, 2006. Wen is scheduled to meet King Norodom Sihamoni, visit Cambodia's Independent Monument and sign bilateral agreements. [Reuters]
Prime Minister Hun Sen and other senior government officials greeted Premier Wen at the airport and held a red-carpet welcome ceremony for the Chinese leader.
In a written statement released upon his arrival, Premier Wen said he is delighted to pay an official visit to the beautiful country of Cambodia and would like to take this opportunity to convey the cordial greetings and best wishes of the Chinese people to the hospitable people of Cambodia.
"China and Cambodia are friendly neighbors and the traditional friendship between the two peoples has a long history," he said, "In recent years, China-Cambodia friendship, forged and cultivated by several generations of Chinese leaders and His Majesty Norodom Sihanouk, the King Father, has been flourished."
"Our two countries have engaged in productive exchanges and cooperation in the political, economic, trade, cultural and other areas and maintained good coordination and cooperation in regional and international affairs," the premier said.
"The growth of China-Cambodia relations serves the fundamental interest of the two peoples and is conducive to peace, stability and development in the region," he added.
During the visit, Wen said that he would call on His Majesty Norodom Sihamoni, King of Cambodia, meet with Senate President Chea Sim, National Assembly President Heng Samrin, and hold talks with Prime Minister Hun Sen.
Premier Wen said he looks forward to an in-depth exchange of views with the Cambodian leaders on bilateral relations and issues of mutual interest to strengthen friendship, enhance understanding, deepen cooperation and promote development.
"I will also take this opportunity to learn more about the economic and social development in Cambodia," he added.
The premier expressed confidence that with the thoughtful arrangements by the Cambodian side, he would have a successful visit, which would contribute to the long-term and stable growth of the good neighborly and friendly relationship of cooperation between China and Cambodia.
Cambodia is the last leg of Premier Wen's Asia-Pacific tour which has also taken him to Australia, Fiji and New Zealand.