TOKYO - Japan's top government spokesman said on Monday that Tokyo disagrees with Chinese President Hu Jintao's comment that visits to a Tokyo war shrine by Japan's prime minister were solely to blame for chilly ties between the two Asian nations.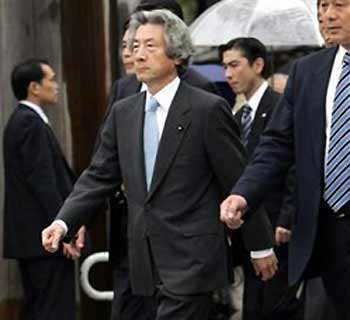 Japanese Prime Minister Junichiro Koizumi arrives at the Yasukuni Shrine in Tokyo Monday, Oct. 17, 2005. [AP]


"We cannot accept his assertion that Japan's leader is totally to blame for the current difficult phase of the Sino-Japanese relations," Chief Cabinet Secretary Shinzo Abe told reporters on Monday.

Sino-Japanese relations are at their lowest ebb in decades, chilled by disputes including Prime Minister Junichiro Koizumi's pilgrimages to Yasukuni Shrine, which Beijing sees as a symbol of Japan's past militarism because it honours convicted war criminals along with the country's war dead.

Chinese President Hu told former Japanese Prime Minister Ryutaro Hashimoto in Beijing on Friday that Japan's current prime minister must stop visiting the shrine if ties between the two countries are to improve.

"If Japan's leader makes the clear-cut decision to cease visiting Yasukuni Shrine... I'm willing to improve and develop Chinese-Japanese relations and hold meetings and dialogue with the Japanese leader," Hu said.

Bitter memories linger in China of Japan's invasion and occupation of parts of the nation before and during World War Two, but diplomatic ties have deteriorated sharply since Koizumi took office in 2001. Koizumi has made annual visits to the shrine.

China has repeatedly said Koizumi's Yasukuni visits are one of the biggest blocks to better relations.

Hu told Hashimoto that "developing friendly and cooperative neighbourly relations between China and Japan is in the two countries' fundamental interests", according to a news broadcast on Chinese state television.

Abe said it was China that refused to hold summit meetings with Japan.

"We always keep the door open for dialogue," he said. "Although there are disputes, we must make efforts to build future-oriented cooperative relations."

Koizumi also complained about the Chinese leader's refusal to meet him.

"I think it is wrong for China to say it will not hold a summit meeting just because of a dispute over one issue," Koizumi told parliament. "If there are problems, it is better to hold talks and develop friendly relations."

Apart from Yasukuni, bilateral relations are frayed by disputes over ownership of energy resources and islands in the East China Sea.

A nationwide survey of 2,000 Japanese voters conducted by Japan's Foreign Ministry on February 10-13 found that nearly four in five believe Japan and China should improve bilateral ties.