Everyone longs for a home where you can share everything with your loved one, said Li Li, an employee with an accounting firm in Beijing is still single at the age of 29.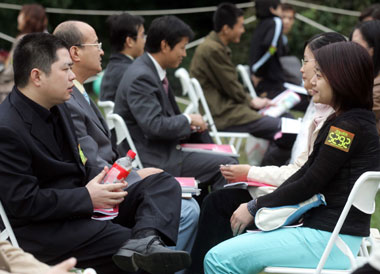 Pairs of single men and women hold a
8-minute-talk face to face in Shanghai's
Zhongshan Park on October 22, 2005. Nearly 5,000 local young professionals, all in a love hunt, convene for a mass match-making activity held in the park. [newsphoto]


However, reality is in reverse. Like Li, more and more young Chinese people are not getting married at an early age. Some claim that "a tide of staying single" is washing over society, and some mainstream media even call it an "unmarried crisis".

China has seen this kind of trend twice since 1949. The first was prompted by the issue of the first law on marriage in 1950, and the second in the late 1970s was sparked by the return of educated young people to big cities after the cultural revolution (1966-1976), during which young people were sent to countryside for reeducation. The drastic social change in Chinese society during two periods caused high divorce rates.

"It is natural for young people to stay single in a modern society with fierce competition and busy schedules," said Zhou Xiaoyan, a scholar with the China Youth Political College, adding many people have no time to find Mr or Mrs Right.

A 25-year man who only gave his surname as "Han" works for a state-owned enterprise and has no girlfriend. He agreed to a phone interview with a Xinhua reporter at around 5 p.m. after work, but he actually made the call at 10 p.m.

"The manager of the department I work for is a 30-year-old, wealthy single man," Han said, stressing that the manager with two houses and two cars, is eager to find a girlfriend but is having no success.

Zhou Xiaoyan pointed out that most of the single population in China are white collars like Han and his manager, who are admired by common people for having good jobs with good knowledge.

"Such people of high social class will look for a partner at the same level as themselves. Therefore they have a narrow spectra of choice, " Zhou said.

Zhou stressed that people of low social class also account for a large proportion of single people. This group of people, commonly aged between 27 to 30, have a low income and cannot afford marital life.

"There is also a surging fear for marriage among young people," said Li Li. "The frequently seen reports of divorce, extra-marital love affairs, cheating and domestic violence have warned us against making the choice."

Statistics showed that in 2004, the Chinese government handled 4,000 divorce cases everyday. 30 percent of 270 million Chinese families have witnessed domestic violence.

Disregarding all these worrying problems, some people were pushed by their parents or mounting pressure on themselves to establish a family.

Therefore, dating agencies have become very profitable in recent years. Generally speaking, membership of a dating agency costs between 1,500 and 10,000 yuan (around 180 to 1,250 U.S. dollars).

Some agencies will even charge as high as 20,000 yuan (around 2,500 U.S. dollars) in the name of offering five-star service and introducing top-class hopefuls.

An insider who gave her surname as "Wang" with a local dating agency in Beijing said marriage service business had developed at an unexpected speed.

In Hefei, capital city of East China's Anhui Province, a company specializing in marriage was set up, claiming to offer a service pinpointing people's specific needs.

"This trade also faces great challenges posed by such problems as cheating when married," Wang said, indicating that there are actually married people disguised as "unmarried" cheating for money and property.

Zhou Xiaoyan believes that these problems have come with the social transformation, in which people may lose faith in marriage because of feeling heavy pressure, losing their jobs or increasing uncertainty.

People's attitude and purpose for love and marriage will also change accordingly, that is why more people turn to cohabiting or trial marrying instead of marriage, she added.

"No matter what people say, I will seek a person I truly love and treat marriage seriously - that is a fundamental principle of mine," Li Li said.