CANBERRA - Australia and China have signed a landmark nuclear safeguards pact, opening the way for massive exports of uranium to fuel China's booming nuclear power industry.
The agreement on "cooperation in the peaceful use of nuclear energy" was one of eight cooperation deals signed in the presence of Chinese Premier Wen Jiabao and his Australian counterpart John Howard.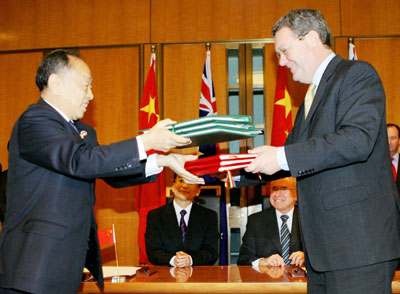 Chinese Premier Wen Jiabao (back L) and Australian Prime Minister John Howard (back R) watch foreign ministers Li Zhaoxing (L) from China and Alexander Downer from Australia exchange the Nuclear Safeguard Agreement during a signing ceremony in Canberra's Parliament House April 3, 2006. [Reuters]


Australia is the world's largest source of uranium, with nearly 40 percent of the known reserves of the resource, and Monday's agreement was worth billions of dollars to the country.

Australian officials said the nuclear deal would lead to exports of 20,000 tonnes of uranium to China per year -- double Australia's current exports of the radioactive material.

But they said the shipments would not start before around 2010 since Australia's current production of uranium is already committed in existing contracts and it will take time to expand output.

Wen insisted China would honor the safeguards pact and its responsibilities under international atomic energy and non-proliferation treaties.

"We believe these safeguard mechanisms will ensure that the nuclear cooperation will not be used for non-peaceful purposes," he said during a joint press conference with Howard.

Howard also said he was "satisfied that the safeguards that are there will be enforced".

Wen and Howard both hailed the burgeoning relations between their nations.

"I feel that China-Australia relations have never been as good as they are today," Wen said.

"There are no issues left over from history and there are no cultural matters standing in the way of our bilateral relations," he said through an interpreter.

Howard said the nuclear and other commercial deals signed Monday highlighted the rapidly developing relationship between Australia and the Asian giant.

"Of all the important relationships that Australia has with other countries, none has been more greatly transformed over the last 10 years than our relationship with China," Howard said.

Other agreements signed by Chinese Foreign Minister Li Zhaoxing and Australian Foreign Minister Alexander Downer covered initiatives to expand exchanges in areas of science, sport and culture.

Wen said the two governments also agreed to step up negotiations on a free trade agreement, though he said this would take a number of years to complete.