Japan's foreign minister signaled on Sunday there could be no immediate thaw in relations with China, saying Tokyo saw Beijing's defense build-up as a threat.
The remarks are likely to anger China just days after President Hu Jintao said he was willing to meet Japanese Prime Minister Junichiro Koizumi provided Koizumi stopped visiting a war shrine Beijing considers a symbol of Tokyo's past militarism.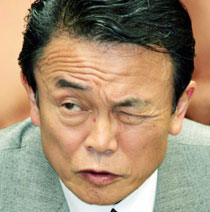 Japan's Minister for Foreign Affairs Taro Aso squints during a question-and-answer session at the Upper House budget committee in parliament in Tokyo in this March 17, 2006 photo. [Reuters]

Ties have slumped to their lowest point in decades, strained by numerous disputes including the issue of Koizumi's visits to the Yasukuni shrine and a row over undersea energy resources.

Beijing has refused top-level talks since Koizumi last visited the shrine in October 2005, calling his actions offensive for Chinese victims of Japan's aggression before and during World War II.

Japanese leader's shrine visit has hurt the feelings of Chinese people and damaged the political foundation of Sino-Japanese relations, said President Hu Friday when meeting a Japan-China friendship delegation led by former Prime Minister Ryutaro Hashimoto who were visiting Beijing in hopes of improving ties.

Aso reiterated Tokyo's concern over the fast-rising Chinese defense budget.

"The real problem is a lack of transparency -- we don't really know what it's being used for," Aso told a political talk show on Fuji Television.

The Japanese government's official line is that China poses no threat, but a report issued last week by a think tank linked to the Defense Ministry termed Beijing's growing military strength a "major destabilizing factor" in East Asia.

Chinese officials have insisted that their country is open about spending and has increased military exchanges with other countries.

Aso said the Yasukuni issue should not be a barrier to a Japan-China leaders' summit, a stance endorsed on the same show by chief Japanese cabinet spokesman Shinzo Abe.

Abe rejected that offer Sunday on the Fuji TV talk show.

"It is wrong for China to refuse talks just over one problem," he said.

Koizumi's term in office ends in September, and attention is shifting to the question of whether his successor will continue his annual visits to the shrine. The prime minister insists he visits Yasukuni to pray for peace.

Both Abe and Aso, key contenders for the premiership, dodged the question of whether they would visit the shrine should they become prime minister, echoing Koizumi by saying it was only natural to want to pay respects to those who had given their lives for the nation.

Asked whether his own feelings or the needs of the nation would take priority, Aso said: "I'm a lawmaker, so of course the needs of the country come first."

Abe, who has supported Koizumi's visits to Yasukuni, warned on a different television channel the issue should not become a focal point for debate on choosing the next prime minister.

"To talk about Yasukuni causes diplomatic problems and that is a loss for national interests," he told the NHK talk show. "It is better to avoid causing political and diplomatic problems."

77.9 percent of Japanese believe Tokyo and Beijing should improve bilateral ties, according to a result of a survey released last week. The survey conducted by the Japanese Foreign Ministry surveyed 2,000 voters.