A girl who went under surgery knife four times for a sex change on Wednesday exposed "himself" to the public in Zhongshan Hospital, Xiamen, east China's Fujian Province.
The girl, originally named Geng Junlan, underwent four operations in a year to successfully become a boy, now called Geng Zi.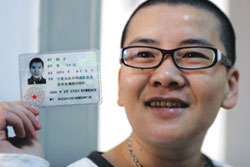 Geng Zi shows his new ID card after the sex change. [file]
Dr Xiu Zhifu, chief of department of orthopedics at Zhongshan Hospital, claimed that Geng Zi has already been recognized as a true man, the Southeast Express reported on Thursday.
Not only was the operation a medical success, but Geng also developed a totally male psyche, Dr. Xiu said. "But, it is a pity that Geng is unable to father his own like other men," Xiu added.
Geng feels happy now because his family as well as people around him has accepted him. "They understand me a lot better than before the operations," he said.
Geng Zi impressed journalists a lot because of his friendliness and good nature while facing a group of reporters.
A male reporter even made fun of him and asked, "Do you have any desires as a genuine man now?"
"Well, I don't have a girlfriend at the moment, so it is hard to answer your question; but to be frank, I prefer seeing pretty girls on the street now," Geng replied.
Geng also said that he had a fairly good state of mind, so he could go endure tough times.
Asked why he wanted to be the opposite sex, Geng explained he had dreamed of being a man since he was a child, but he didn't have enough money for the operation.
"I have quarreled with my family for 14 years on this matter," Geng said.
Geng Zi's parents are educated people, but he said they always ignored her unusual request instead of scolding her.
"They tried to persuade me to get married and settle down as soon as possible, while I persisted in wanting to change my sex," Geng said.
Geng said that people sized "her" up with curious eyes before the operations were carried out. However, they are nice to him now although they know the truth.
"My family also accepted me again," Geng said, "My parents applied for a new identification card on my behalf."
"Now, my lifelong dream has come true. I can say I haven't wasted my life," Geng said.
But, Geng is a little worried about his marriage prospects. He said that the most important thing for him is that his future wife is able to accept his unusual history.
He also regretted that he would never be able to have a baby.
"But, there is nothing special I fear now," Geng resolutely said, "even though the operations were extremely painful at the time, I have never thought of giving up."