The monks of China's ancient Shaolin Temple, one of the birthplaces of Chinese martial arts, have teamed up with a television company to make a reality show aimed at unearthing a new Jet Li or Jackie Chan.
The "K-Star Global Chinese Kung Fu Star TV Competition" will give 108 martial artists a chance to show their moves at the famous temple complex in the hills of Henan province with the winners getting a shot at Hollywood stardom.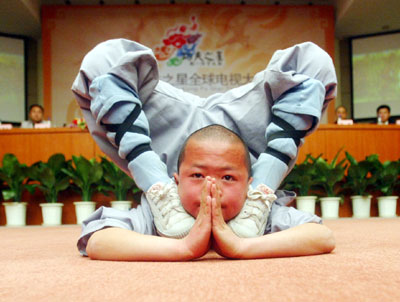 Shi Xiaoguang, an 8-year-old monk who sat on Russian President Vladimir Putin's shoulder when Putin visited Shaolin Temple last Wednesday, performs at a news conference for the launch of 'The stars of Chinese Kongfu Contest' in Beijing, China March 30, 2006. 108 contestants well-versed in the art of kungfu will be then chosen to act in the teleplay 'Shaolin Temple'. [newsphoto]
"The Shaolin temple is the cradle of kung fu which brings with it the great responsibility of promoting kung fu," Abbot Shi Yongxin told a news conference.
"We think this television show will provide entertainment by displaying traditional Chinese kung fu to the whole world."
The 108 refers to the 108 heroes of the Chinese classic, "The Water Margin."
After the success of the reality TV show "Super Girl," the new show brings a distinctly Chinese flavor to the genre.
"Super Girl," the search for a Chinese singing star based on the popular "Idol" TV concept, attracted an audience of 400 million viewers for its final show last year.
The potential financial success of such a show and its Hollywood spin-offs will be welcomed by Abbot Shi, who has entered the commercial world with some enthusiasm in recent years.
Peter Shiou, who is involved in the audition process for the competitors from the United States and the film production, said the show was also part of a movement hoping "to return martial arts to its rightful roots in China."
As a result, he said, they would not just be looking at fighting skills of the participants.
"People understand the fighting but they don't understand the arts," he said. "We want to restore what it really means to be a martial artist. We want to put the art back into martial arts.
"We're looking for someone who epitomizes that ideal above and beyond the ability to fight so this is where aesthetics, etiquette, morality, integrity of character and philosophical studies comes in."
When asked why they did not just use established kung fu stars such as Jet Li and Jackie Chan for the films, Shiou said: "It's really about finding the next generation. These guys are getting old. How long can they continue to do this?"