The Bush administration said Thursday that it is filing a trade case against China before the World Trade Organization in a dispute involving auto parts from the US and other nations.
The 25-nation European Union joined in the complaint, which alleges that China is imposing high taxes on imported auto parts in violation of pledges China made when it joined the WTO in late 2001.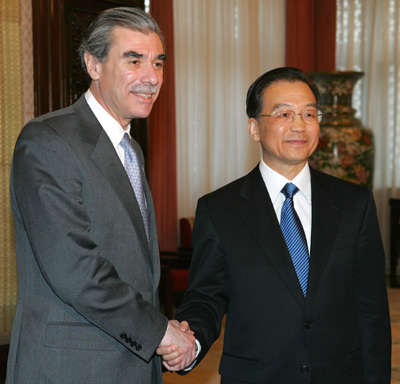 US Commerce Secretary Carlos Gutierrez (L) shakes hands with Chinese Premier Wen Jiabao in Beijing March 28, 2006. Gutierrez held talks with Chinese top officials Tuesday. [Reuters]
China's Commerce Ministry said on Friday that it regretted a move by the European Union (EU) and the United States to turn to the World Trade Organisation over a row on car parts.

In a posting on its Web site (www.mofcom.gov.cn), the ministry said it was studying the EU and U.S. decision.

The European Union and the United States have asked China to participate in WTO consultations on its auto parts tariff rules. Consultations are the first step towards a request for a WTO dispute panel to rule on the issue.

This is the first time the EU's executive Commission has taken China to the WTO since China joined in 2001. It is the second case Washington has brought against Beijing.

"As a mature trading partner, China should be held accountable for its actions and be required to live up to its responsibilities," US Trade Representative Rob Portman said.
Filing a complaint with the WTO triggers a 60-day consultation period in which both sides try to work out their differences.
If these negotiations do not succeed, then the United States and the EU will have the right to pursue a trade case that could result in penalty tariffs being levied against Chinese products.
Portman told reporters that America's concerns over the higher taxes on US auto parts had been raised a number of times with China before the decision to file the WTO case was made.
The action was praised by hard-line members of the US Congress.
"I have long urged USTR to take strong enforcement action. Today's action ... is a welcome step in that direction," said Sen. Max Baucus, D-Mont.
Before the new case joined by the EU, the United States was the only country ever to file a WTO complaint against China. That earlier case, involving a Chinese tax rebate for semiconductor chips, was resolved during the consultation phase.
The filing comes at a time of rising trade tensions between the two countries over issues such as exchange rate regime, trade deficite and intellectual property rights.
The Bush administration is under pressure to rein in a bilateral deficit that on US figures reached $201.6 billion in 2005. China, which counts Hong Kong trade separately, put its calculated surplus with the United States last year at $114.2 billion.
"We expect that country to treat us fairly," US President Bush said Wednesday while taking questions from reporters. Bush is scheduled to meet in mid-April with Chinese President Hu Jintao in Washington.
Before those discussions, top administration and Chinese economic officials will meet on April 11 to discuss a wide range of trade issues between the two nations.
The United States has alleged the rate undervalues the Chinese currency and gives the country a competitive advantage in trade.
A bill sponsored by Sens. Charles Schumer, D-N.Y., and Lindsey Graham, R-S.C., would impose penalty tariffs of 27.5 percent on all Chinese goods coming into the country.
The two senators said earlier this week that they would delay a vote on that measure for up to six months after discussions they held last week with Chinese officials that gave them the hope that China is prepared to do more on the currency issue.
The US also is looking at filing another trade case with the WTO against China over what the trade representative's office says is rampant piracy of intellectual property rights such as movies, music and computer programs.
The administration signaled its new get-tough approach with China earlier this year when it released a top-to-bottom review of America's trade relationship with the Asian giant.