China Thursday expressed dissatisfaction over groundless remarks by Italian Premier Silvio Berlusconi, who said in a recent campaign rally that China "boiled babies for fertilizer in Mao's (Zedong) era."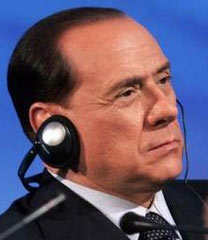 Italian Prime Minister Silvio Berlusconi applauds during an European People Party (EPP) meeting in Rome March 30, 2006. [Reuters]

Foreign Ministry Spokesman Qin Gang asked the Italian leader, who is running in an April 9-10 election, to pay attention to his words and actions during a regular news conference in Beijing.

Italian opposition politicians accused Berlusconi of damaging the country's international standing, saying Berlusconi's comments proved he was unsuitable to represent Italy at the highest levels.

"This sort of thing does terrible damage. It displays an absolute lack of care and an incomprehensible inability to understand the way the world is today," said opposition leader Romano Prod, who is widely expected to win the April election.

"This policy of carelessness only damages Italy."

But Berlusconi refused to apologize or retract his statement, although on Wednesday he told reporters he had used "debatable irony" when referring to the babies.

During his five years in power, Berlusconi has regularly sparked diplomatic storms with other allies because of his highly unconventional style.

Sovereignty on Diaoyu Islands reiterated

The Diaoyu Islands in the East China Sea have been Chinese territory since ancient times based on "indisputable legal basis," the Foreign Ministry reiterated yesterday.

"This is China's solemn position," spokesman Qin Gang said.