China has recovered more than half of the 9.1 billion yuan (US$1.1 billion) in misused public funds uncovered in an "audit storm" conducted last year, the National Audit Office reported on its Website yesterday.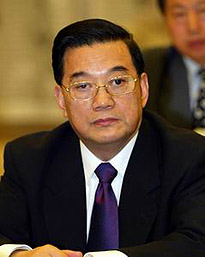 Li Jinhua, widely known as the "iron-handed auditor-general," said the public will have access to audit information both through Internet and free printed bulletins. [newsphoto/file]

The office said it had reclaimed 4.16 billion yuan in embezzled funds and 1.28 billion yuan in otherwise misappropriated money since a June 2005 report scandalized the nation by charging 38 central government departments with financial wrongdoing during the year before.

The auditors also said 213 people had received unspecified punishments and 76 were arrested, prosecuted or sentenced to prison for stealing or misappropriating public funds.

"The audit report on central government departments and other state organs has borne fruit, as most of the parties involved have taken steps to correct their irregularities," the audit authority said.

China's top auditor, Li Jinhua, said in his June 2005 report that officials at dozens of state agencies paid salaries to non-existent workers, embezzled cash or diverted money meant for flood protection facilities to commercial activities.

The State Council, China's cabinet, then became involved in rectifying the problem.

Ten government departments have given back 15.86 million yuan so far in misused funds and allocated another 390 million yuan in their budgets for next year to offset earlier misappropriations.

They were accused of padding payrolls with fake employees or projects to increase their funding from the central government.

Action was taken in other cases as well. Twenty-three government departments accused of embezzling 1.07 billion yuan in government funds have paid back the money, and another three have developed repayment plans.

Similar problems found in the country's four major asset management firms are also being corrected.

The firms were created in October 1999 to help banks and other state-owned companies dispose of bad debt.

In cases involving the asset managers, 191 people have been sanctioned for misdeeds with punishments including dismissal, demotion, warnings and other penalties.

Among the problem cases, China Construction Bank's sub-branch in Zaoyang, Hubei Province, conspired with a local government and court to illegally dispose of corporate loans and interest worth 18.44 million yuan through one of the asset management companies, according to the auditors.

The bank then allocated 5.02 million yuan to personal accounts.

In Hubei, the bankruptcies of 475 companies were found to be illegal, causing significant losses to the asset management firms. The companies involved are now repaying their debts.