A recent rise in the number of human cases of avian influenza reported in cities is a dangerous sign of things to come, Zhong Nanshan said yesterday in Beijing.
In Viet Nam, Thailand and Indonesia, the main source of the virus is spreading through dead poultry, Zhong, president of the Chinese Medical Association, said at an international conference.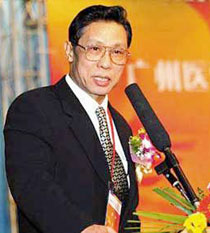 Zhong Nanshan, director of the Guangzhou Institute of Respiratory Diseases. [file]

However, in China, some 16 human cases of bird flu have resulted without any direct contact with ill or dead poultry, he noted. Eleven victims have died of the epidemic.

For example, no evidence has emerged that human cases found in Sanming of East China's Fujian Province, Guangzhou of South China's Guangdong Province and Shanghai, came from eating or coming into contact with diseased poultry.

But the two cases reported in Shanghai and Guangdong have been linked to poultry markets.

"People don't just contract the virus through contact with dead poultry. They can also get the virus from contact with live poultry and migratory birds," Zhong said.

"Some poultry, especially ducks, are possibly virus carriers and might transmit the virus to human beings," he noted.

This is why the government should only allow poultry with licences to be sold in poultry markets in the cities, Zhong added.

Stronger monitoring of poultry, wild birds and human beings should be undertaken to control the virus from spreading.

He warned it is also a dangerous sign that the virus had been found in mammals, such as cats. He is worried the human flu and the avian flu might combine in mammals like pigs, and then the avian influenza virus would spread more easily to humans. In China, the virus is only found in poultry and human beings. No other mammals have been reported as carriers, he said.

He also said the people who died in Guangzhou and Shanghai could have survived if they had seen doctors earlier.

The victims were 32 and 29 years old and they still succumbed to the disease. So it is important to educate the public to go and see the doctor as soon as they get symptoms, such as a high fever.