Efforts to cap the gas well that started leaking in Kaixian County in Chongqing Municipality on Saturday morning were postponed until today.
The backup plan, which followed unsuccessful attempts to cover the well on Monday, was scheduled to commence on Tuesday but was postponed because geological conditions around the leakage site were so complicated.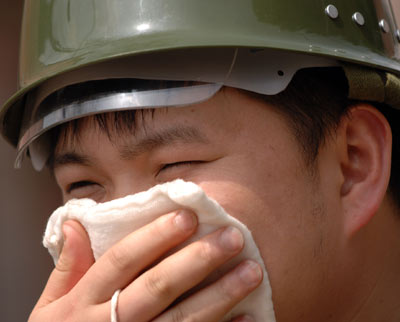 A firefighter covers his face with a tower at a site of a gas leakage in Kaixian County, Southwest China's Sichuan Province March 28, 2006. [Xinhua]
Experts from the China National Petroleum Corporation (CNPC) held a meeting on Monday evening and decided to spend more time working out a more detailed plan to deal with all possibilities, said Li Luguang, general manager of the CNPC's Southwest Oil and Gas Field Corporation.
"We will implement a revised plan if the second attempt at controlling the leak is unsuccessful," said Li, whose corporation maintains the leaking well in Kaixian.
The second plan aims to seal-off the source of gas at the bottom of the well, which is 3,400 metres deep.
"Several leakages have been found within a 1-square-kilometre area of the leaking well. The only way we can solve the problem is to use cement to cap the source of gas," an expert from the CNPC told China Daily.
On Monday, the well was filled with 186 tons of cement, he said.
The leaking gas is mainly methane, unlike the sulfureted hydrogen that came from the December 2003 leakage in Kaixian, which killed 243 people.
Nobody outside the danger zone, which was within a 0.5-kilometre radius of the leaking well, needed to be evacuated, said Jiang Youyi, Kaixian party chief.
Most of the 10,000-plus evacuated residents have gone to stay with their relatives, while some 4,300 are living in the eight locations provided by the county government, Jiang said.
The county government has provided over 1,000 beds in hotels in the county to accommodate the old, weak, sick and handicapped. Some 400 people are living in hotels, he said.
More than 4,000 students in Kaixian have been affected as classes were suspended following the gas leak.
One high school and two primary schools in Gaoqiao Town, where the leakage took place, have been closed and another three high schools are being used to accommodate evacuees, said Jiang Bocheng, chief of the Kaixian County Education Committee. "We will try our best to resume classes for those in third grade at junior high school today, as they will take senior high school entrance exams soon."
Departments in charge of environmental protection in Chongqing have set up five stations near the site of the leakage to monitor the air and water.