Drifting and floating dust that has enveloped northern China for two days will continue to linger around the arid region Tuesday, the Central Meteorological Observatory forecasted yesterday evening.
The mercury is expected to climb to new highs following the windy days, but a new round of sandstorms is likely to hit northern regions again next Monday, according to the observatory.
The ongoing sand and dust storm, generating from the eastern parts of Mongolia, has been affecting a vast area of 280,000 square kilometres, nearly 80 per cent of which are located in China.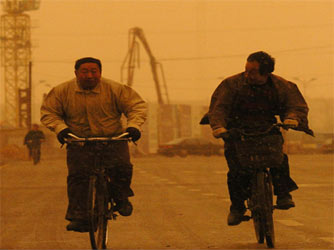 Residents ride bicycles through a sand storm on a street in Shenyang, Northeast China's Liaoning Province Monday March 27, 2006. [Xinhua]
It is the fourth round of sandstorms to hit China this spring, dimming the sky into a saffron yellow and cutting visibility considerably.
Environmental experts warned that sandstorms bring not only sand and dust but also saline-alkali chemicals that seriously pollute water, soil and plants.
Song Huailong, a researcher with the Chinese Academy of Sciences, said the saline-alkali particulates mainly came from hundreds of dried-up lakes in the Inner Mongolia Autonomous Region and Hebei Province.
Large amounts of these harmful chemicals travel along northern China every spring, and impose great threats to the environment and people's health, Song said, adding that the source of saline-alkali dust was expanding and moving towards the Chinese capital.
The sandstorm that choked Beijing yesterday caused the city's air quality to deteriorate to the extent that the municipal environmental protection bureau was forced to take emergency measures such as suspending construction work and adding water sprinklers to the street.
Wang Xiaoming, an official with the bureau, said the density of the particles was 346 micrograms per cubic metre yesterday in Beijing, three times higher than the national standard of good air quality.
Tian Yue'e, a doctor with the Beijing Hospital of Traditional Chinese Medicine, said dusty weather seriously harms people's eye, skin and respiratory system.
She said every spring when sandstorms prevail, the number of patients suffering from diseases of the eye, skin and respiratory system always increase by big margins.
She recommended people, especially the young and elderly, not go out on dusty days and to drink more water.
(China Daily 03/28/2006 page2)